British Museum
Jewel in the crown of London Museums
The British Museum , what can I say. This is quite simply one of the nation's best and favourite museums. It has in recent years gone through a fantastic transformation with updated galleries and a central court area which is just simply stunning.
---
Opening Hours and Admission
The Opening Hours are:
Open daily between 10.00am - 17.30.
Closed 1 January, 24, 25, 26 December.
The museum is FREE to visit but there is a charge for special exhibitions
(these charges vary)
Address: Great Russell Street, WC1B 3DG
Download floor plan of the museum 
The museum contains a huge collection of items from all over the world representing ancient civilizations and a snap shot of the history of the world and its development.
You will not find one part of the museum which does not contain something marvelous. I have been visiting the British museum all my life and I still discover new and exciting exhibits every time I go.
It really is a must see of our London Museums, you will kick yourself if you miss it during your trip.
This is a large museum and it is unlikely that you will see everything in one day. My advice is don't try to do too much, pick up a guide when you enter and take some time to decide which areas of the museum you would like to see the most. I will give you some item here via information, pictures and videos to give you a good idea of what you may like to go see.
Museum Highlights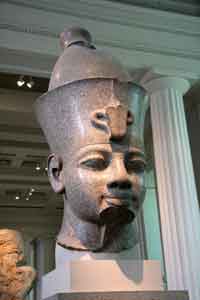 So I have chosen 6 items within the collection which I found of particular interest and which the British Museum itself highlights as items most popular with visitors. These are:
The museum as you can imagine has a huge collection which stands at 8 million items. Trying to pick out individual items of special interest is almost impossible as everything in the collection is fascinating, everyone will have their own favorites though of course.
The Collections

The collections are spread over three floors within the museum and are categorised by their geographical location. You will definitely need a map to find your way around (you can download one here or pick one up during your visit)
Follow the links for more on each collection including pictures and videos.
The areas covered are:
Middle East
Africa
Enlightenment
Eating  And Shopping At The Museum
The museum gets very busy and so I strongly recommend that you try to arrive as early as possible, make sure you are wearing comfortable shoes and clothing and that you take regular breaks throughout the day. This way you will not become too tired which can, as I find, spoil your enjoyment of the collections.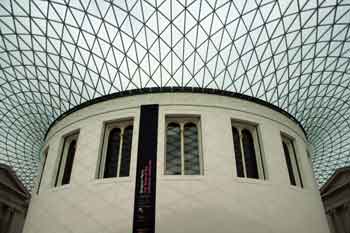 Eating Places
There are three main eating places within the British museum.
For light snacks there are two cafe spots in the great court area in the centre of the building. Here you can buy sandwiches and cakes as well as hot and cold drinks.
For something a little more substantial there is the Gallery Cafe located on the ground floor. As well as cold snacks there is a selection of meals such as pasta dishes, soups and salads.
For a real treat there is the Court restaurant situated above the reading room in the great court. Top quality food is served here so expect to pay top prices. I would also recommend booking in advance for a reservation to ensure you get a place.
Shopping
Every modern museum has a place for you to buy a memento of your visit and the British Museum London is no exception, in fact it has four separate shops to cater to everyone's needs.
There is s book shop - buy books about ancient history, art history, archaeology and other books related to the collections.
Family shop - As the names suggests this shop caters for the needs of its younger visitors, everything from games and puzzles to educational items.

Collections shop - This sells items specific to the collections within the museum. Such as replica items and postcards of the collections.

Culture shop - This sells luxury items which are perfect for gifts. Find exquisite scarves and jewellery as well as watches and statuettes.
Have You Visited The British Museum London?
Visiting London Museums is as you may have guessed one of my favourite hobbies and interests and from the fact that the British Museum is visited by nearly 6 million visitors a year certainly sounds like many of you love museums too. So why not share your visit with others.
What did you most enjoy?

What was your favourite item?

Is there something you didn't like?

Share your visit to the museum here.
Review Your Visit To the British Museum
Do you have a great story about this? Share it!
What Other Visitors Have Said About The Museum
Click below to see contributions from other visitors to this page...

Great Day Out At The British Museum Not rated yet
We visited London for the first time and wanted to do everything. But of course that wasn't possible so we choose to visit the top visitor attractions …
---
Know of An Event Taking Place at the British Museum?
Do you have a great story about this? Share it!
Events
Click below to see contributions from other visitors to this page...

---
Home
> British Museum