Sports Museums in London
Sports museums are for the enthusiast and also for the curious too. So no matter if you are a massive football fan or an avid tennis player London's museums will have something for you. 
London currently has six museums dedicated to sport. They range from world famous football clubs and internationally renowned sporting events to perhaps lesser known sports and clubs.
Browse through the list below to read more about our museums.
Wimbledon Lawn Tennis Museum
The Wimbledon Lawn Tennis Museum showcases not only one of the Oldest tennis clubs in the world but also celebrates the world famous Wimbledon Tennis championships which is now in its 126th year.
The museum has items not only from the clubs history but also explores the world of tennis and it's begiinings.
To find out more about this museum please visit this page.
Marylebone Cricket Club Museum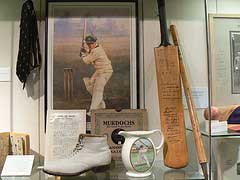 Housed in the world famous Lords cricket ground this museum diplays items from the world of cricket and the 140 year old MCC club.
Amongst some of it's prestigeous items is The Ashes, which every cricket buff knows is the holy grail of cricket trophies.
The Museum displays include items such as:
Cricket kit used by some of the greatest players of all time

Items dating back to 19th century

Cricket-related paintings

The stuffed Sparrow which was unfortauntely 'bowled out' by Jehangir Khan in 1936.
The museum also has a theatre, where visitors can see footage of some of the greatest cricket performances in history.
Open: 10am -4-30pm Non Match days
Admission:
£7.50 for adults and £5 conc.
Address:
Lord's Cricket Ground, St John's Wood, London NW8 8QN
Tel: 020 7616 8595
Arsenal Football Club Sports Museum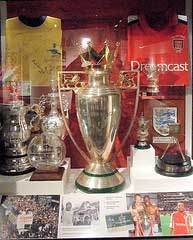 The Arsenal Football club is one of London's top teams and as such thier fans like to visit the ground between matches to find out more about the teams history.
The museum holds many items which have been donated by former players as well as items such as:
Michael Thomas' boots from Anfield '89

Charlie George's FA Final Cup shirt from 1971

Medals, shirts and caps belonging to David O'Leary and others 
The Museum also has an impressive Legends Theatre and a dozen fully interactive sections. Here the visitor can experience many of Arsenal's most outstanding players and managers, as well lerning more about the clubs history in all it's previous locations. Sports museums such as this are a football fans must see.
Open:
Monday - Saturday 10.30 18.00 
Sunday 10.30 16.30 17.00
Matchday 10.30 1 hour before kick-off
Admission:
£7 Adults, £4 Under 16s
Address:
Arsenal Football Club, Highbury House, 75 Drayton Park, LONDON, N5 1BU
Tel: 0207 619 5000
Chelsea Football Club Sports Museum
Chelsea Football club is world famous and as such have fans all over the world.
This year 2012 will see the opening of their new museum at their ground. It will of course be very modern and have many interactive displays which will help to bring to life the clubs history.
Some of the new features of the museum are: 
A interactive Shooting Gallery allowing the visitor to learn how to perfect goal scoring techniques.

Shirts worn by some of the greatest players in the club's history,

Footage of players best moments
The museum describes itself as a fun and educational must see London attraction.
Address: Stamford Bridge, Fulham Road, London, SW6 1HS
Tel: 0871 984 1955
Open:
10.30am - 5pm (Last entry 4pm). 
July / August 10.30am - 6pm (last entry 5pm)
Admission:
Adult - £11 (£10 conc.)
Child - £9 (5-15 years. Under 5s are free of charge)

Museum will be open on match days but opening hours will vary depending on kick off time.
World Rugby Museum
The World Rugby Museum formerly called 'The Museum of Rugby' opened in 1996.
The museum describes itself as " the ultimate visitor experience for the world rugby enthusiast".
It is based in Twickenham which is the home of the England rugby team and has the best collection of rugby memorabilia in the world.
The museum is not just a static collection of artefacts but is also takes the visitor on an inspirational trip through the history of Rugby.
The collections consists of over 10,000 rugby related items.
Address: East Stand of Twickenham Stadium, 200 Whitton Road, Twickenham,Middlesex, TW2 7BA
Tel: 020 8892 8877
Admission:
Adult £8.00 ( Conc £6.00)

Open:
Tuesday to Saturday 10:00 – 17:00
Sunday 11:00 - 17:00
Monday Closed
Bank Holidays 10:00 – 17:00
River and Rowing Museum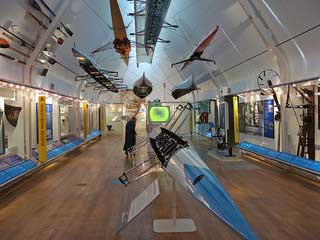 This is more than a rowing museum. It consists of four permanat galleries and a specail exhibition area which cahnges on a regular basis.
The galleries cover:
Wind In The Willows Gallery
E.H. Shepard's famous book is brought to life using 3-D models of his original illustrations.
The exhibition transports visitors on a journey through the whimsical world of The Wind in the Willows.
The Thames Gallery
The gallery looks at the river as an inspiration for the arts, as a habitat for wildlife and as a source of pleasure and trade.
Rowing Gallery
The gallery tells the story of international rowing via exhibits and interactions allowing the visitor to experience rowing for themselves.
The Henley Gallery
The Henley Gallery tells the story of the town built by the river. Covering all of its colorful history.
Open:
Winter (Sept to April) - 10am to 5pm 
Summer ( May to August) - 10am to 5.30pm
Mon - Sun
(Closed Christmas Eve, Christmas Day, Boxing Day, New Years Eve, New Years Day and Thursday 5 January)
Admission
Adult £8.50 (Conc £6.50 )
Address- Mill Meadows, Henley on Thames, Oxfordshire, RG9 1BF
Tel: 01491 415600
---
Hope you have enjoyed this sports museums in London page. If you know of other sports museums in London please let us know. Use our Contact us link.
Back to the Top Of This Sports Museums Page
Home
> Sports Museums
---