Shunga
3 October 2013 – 5 January 2014
Parental guidance advised for under 16s
Shunga meaning "spring pictures" were produced between1600 and 1900 by the artists of the ukiyo-e or 'floating world' school.
The images are explicit in nature but are often tender and humorous too. They were banned in Japan during the 20th century but were revered and inspired artists such as Toulouse-Lautrec, Beardsley, Rodin and Picasso.
The images were produced as paintings and prints and often appeared in books.  They appealed to every class during their production and were liked by both men and woman alike.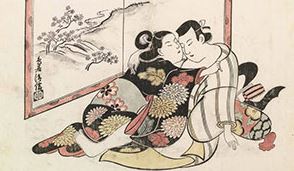 These images continue to influence many aspects of Japanese art today, including manga (comics and cartooning) and anime (hand-drawn or computer animation).
This exhibition sheds a new light on these exquisite pictures. The following short video is a promo for the exhibition and will give you an idea of the delicate and beautiful work put in to make these wonderful evocative and Japanese pictures.
Prices
Adults £7 
The exhibition can be found in Room 35
Open daily 10.00–17.30
Back to the top of this Shunga Page
back to British Museum Page
Back to London Museums Home Page