The Cabinet War Rooms and the Churchill Museum
The Cabinet War Rooms lie beneath the streets of London long forgotten and secret for so many years. This was where Winston Churchill coordinated and planned the management of the second world war.
Along with hundreds of staff and officials this underground bunker provided a place of safety against the bombs falling on London, along with somewhere to work and sleep during the years of the war.
There are two museums to discover at this venue for the price of one, not only can you explore the warrens of the war rooms themselves but there is also a new exhibitions depicting the life of Winston Churchill.
The museum is designed for both young and old with free audio tours specifically designed for either adults or children, which help to bring the museum to life.
Opening Times and Admission
Opening Times 
Monday to Sunday 9:30am - 6pm
Closed
24,25,26 December
Address
Clive Steps, King Charles Street, London SW1A 2AQ
Telephone Number 
020 7930 6961
Email - cwr@iwm.org.uk
Admission:
Adults £16.50
Child (under 16) Free
Concessions £13.00 (Senior, Student, Disabled)
Cabinet War Rooms
The underground Cabinet War Rooms consist of a warren of rooms, tunnels and corridors, some quite narrow but all are dimly lit as they would have been during the war. The whole place is basic and austere and has a very much rough and ready feel to it. However it provided everything which was needed by the hundreds of staff who both lived and worked there day and night during the war years.
Many of the rooms are exactly how there were left after the war, as they often say, the lights were turned out and the doors were locked and it wasn't until over 25 years later until they were rediscovered again.
Amongst the cabinet war rooms on display are:
The cabinet war rooms themselves,
A meeting room for the chiefs of staff,
A kitchen where three meals a day were prepared for Churchill and others
Bedrooms for officers and for Churchill and his wife
BBC Broadcasting Room
Secretaries Offices
Map room

Everything you see was either left as they were when the doors were locked or have been reconstructed from photographs using authentic pieces.
Churchill Museum
This museum is a separate part to the main museum. This a large one room display depicting the life of Winston Churchill, who led a very active and varied life. Every aspect of his life seems to be covered here both personal and public, with each aspect carefully and thoughtfully displayed.
There is a lot to see here but it is not over whelming, instead it is a snapshot into a great man's life which leaves you feeling inspired and in ore of him.
Some of the things you will see in this gallery are:

You can hear his many stirring speeches he made throughout the Second World War
A film of his funeral procession and the flag which lay on his coffin
Many of his medals and awards including the Nobel prize for Literature
Personal letters between Churchill and his wife
Original No 10 door used by Winston Churchill when he was prime Minister in 1940.
My Review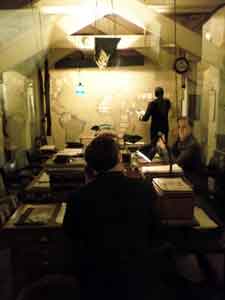 I didn't know what to expect when I visited the cabinet War Rooms. I knew what they were but still did not know what I was going to see, I suspected that I would find it all rather dull as war in general isn't one of my favourite subjects. However I can report that this museum far exceeded any expectations I may have had and that my visit was not only interesting but fun and dare I say it , a little exciting too. 
This underground warren of rooms and corridors are the real thing, this is where it all really happened and many of the rooms and items in them are still as they always were, left exactly in place when the underground bunker was abandoned after the war and not rediscovered until the 1970's. You get tingles along your skin as you wander around and realise that real people and real major decisions, which changed the British history forever, were made here.

On entering the museum you are offered a free audio guide which I fully recommend you take up. It is very easy to use and really brings the place to life. You can wander around at your own pace and just start the audios yourself when and if you want to; I really liked this freedom as I like to explore things for myself and not be dictated too. I found out so much more from the guide about the individual rooms and what went on in each of them than I would if I simply read small information panels.
Although the Cabinet War Rooms are ordered in such a way which lead you around on a organised route, I would warn you that the corridors can become a little confusing. This is where the audio tour is helpful too as it will often give you guidance as to where to go next. Also there is a small printed map that you can pick up for free which shows you the route around the museum. Do look at it as i discovered that I had to double back on myself as i had missed the entrance to the Churchill Museum.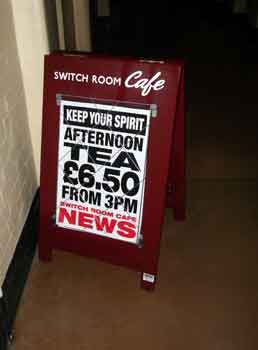 Half way round you will come across a small cafe area which served tea and cakes and light snacks. One of the things i liked about this cafe is that they kept the theme of the museum running through it. So there was 1940's music playing and the decor was of an austere fashion. Well worth a stop off during your visit.
When I did finally find my way into the Churchill Museum I was pleasantly surprised at how modern it was which was a nice contrast to the war room's area. Its layout was a little confusing but this allowed you to pick and choose the areas of Churchill's life you wanted to find out more about rather being taken on a strict chronological journey of his life.
One of my favourite aspects to Churchill museum was the way that individuals could trigger audio commentaries for themselves which did not disturb other visitors. This was illustrated best by a line of photographs which depicted varies aspects of the war and related Churchill speeches which were triggered when you stood in front of the photographs. This new technology does not flood the whole space with noise but instead makes the experience a very personal one. I found myself welling up with emotion, Churchill was a very great speaker you know.
At the end of the museum there is the usual museum shop, except it's not that usual in the things that it sells. A s you would expect everything is war or Churchill related but they are quality items which I have not seen in other museums so much. If I had had the money I would have spent quite a lot on gift items for my family as there was so much that I think they would have enjoyed.
Over all a very enjoyable day out, not too tiring, not too over whelming, just authentic, original with that added excitement of knowing that you are standing in a place that helped to change the world as we now know it.
Tell us about your visit to the Cabinet War Rooms
What did you think of your visit to the museum? Why not share your thoughts, likes and dislikes and let others know what they can expect when they visit the Churchill Museums. 
Back to the top of this Cabinet War Rooms Page
Home

>
Military Museums
> Cabinet War Rooms
---