Cartoons and Caricatures
Bank of England Museum
Cartoons and Caricatures is on - 17 May - 31 December - FREE
The bank of England is where the nation's money and gold bullion are kept and managed right? Right, but did you also know that the bank posses a collection of cartoons and caricatures from the 18th century. Which is rather odd don't you think considering that cartoons from this period often ridiculed people and organisations in power, the bank being one of them.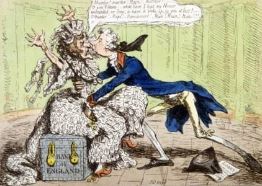 But if you think about the historical importance of recording events at that time, perhaps it is no surprise that the bank of England prize these cartoon as a period of English history, for good or bad , worth keeping.
One such infamous cartoon was produced in 1797 by James Gillray (1757 - 1815) who was one of the most prolific caricaturists of his time , called " Political Ravishment or the Old Lady of Threadneedle Street in Danger". This represented the Bank of England as a old Lady ( a name which the bank has been known by ever since),  being attacked by the Prime minister of the day trying to get his hands on the banks reserves.
Over the years various cartoons have depicted the bank in times of political and economic turmoil and this exhibition is a look at some of these historical moments through the eye of the illustrator.
Works on show contains both published and unpublished  prints and drawings from the Banks collection. Including works by James Gillray, John Tenniel and Steve Bell. 
Even if you are not sure of the politics of the day, this exhibition will both amuse and educate all. What better way to learn about history than via a good laugh.
Bank to the top of this cartoons and caricatures Page
Back to Bank of England Page
Back to London Museums Home Page