The Cuming Museum 
and Southwark History
The Cuming museum has been around since 1906 and is a mixture of two exhibitions. The family collection of various items including archaeology and natural history and a history of the borough of Southwark. 
The Museum is currently closed due to a fire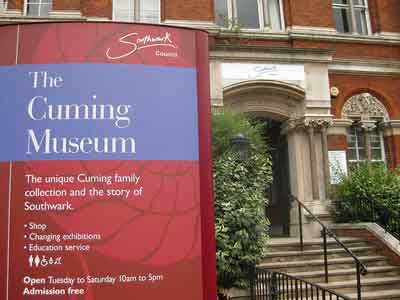 Opening Times and Admission
Entry to the museum is FREE
Open:
Tuesdays to Saturdays 10am to 5pm.
Closed on Sun. Mon. and Bank Holidays.
Address:

Old Walworth Town Hall, 151 Walworth Road, SE17 1RY
Tel: 020 7525 2332
Email: cuming.museum@southwark.gov.uk
Collecting interesting and unusual items from around the world was a popular pastime of gentlemen in the 17th and 18th centuries. This family were no exceptions and over a period of a hundred years father (Richard (1777 to 1870) and son (Henry Syer (1817 to 1902) collected many thousands of objects which have been added to over the years by local residence and now consists of around 25,000 items objects.
The original museum consisted only of the Cuming family collection, however now the museum also incorporates an exhibition regarding the history of the borough of Southwark.
The museum is divided into three separate galleries:
The family's collection
The History Southwark
A temporary exhibition space which changes every 4 to 6 months.
Cuming Museum Highlights
The Family Collection includes items from all over the world; here are just a few of the items which can be seen:
Fakes and forgeries - Because so many people wanted to buy antiques at the time, a few unscrupulous dealers designed to make some for their own benefit.
Collecting fake items was part of the fascination for the family and many of these items were purchased deliberately for the collection. Some of these fakes 
include:
A fake medieval figure of a bishop
Fake pilgrim badge.
The Schomburgk collection - This collection was bought by Richard Cuming after it had been exhibited by the explorer in 1840. This collection is an important record of South American life in the early 19th century.

Lovett Collection of Superstitions - These items were donated to the museum in 1916 and is a record of some of the superstitious beliefs many Londoners had during the early 19th century.
Home

>
Specialist Museums
> Cuming Museum
---