Discount London Hotels 
London Hotels Under £65 per Night 
Finding good discount London hotels is not as difficult as you may think. There are many out there that not only offer comfortable surroundings for your stay but also are willing to offer the best price possible.
All these London Hotels regularly offer discounted rates and special deals. I have chosen them for their good reviews too.
Discount Hotels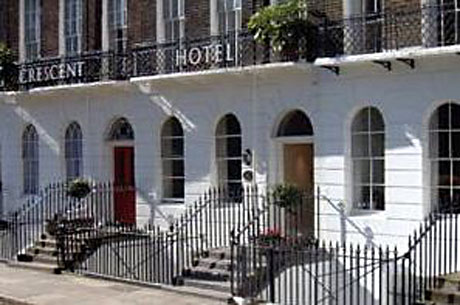 Crescent Hotel 
49-50 Cartwright Gardens, Bloomsbury,
Located in Bloomsbury, in Central London, in an elegant Georgian building which overlooks a quiet street garden. The hotel is only 5minutes walk away from St Pancras International Station and the Euro star. The British museum is 15 minutes walk away and London's Busy central shopping area Oxford Street is 20 minutes walk away.

This is an established family run hotel which has been serving visitors to London for two generations. A traditional hotel with a TV and Coffee making facilities in each room. A full English breakfast is also served in the lounge every morning.
---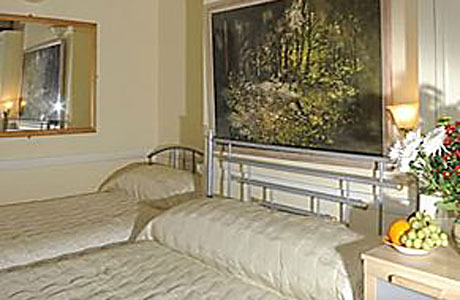 Wyndham Hotel 
30 Wyndham Street, London W1H 1EB
This is an characteristically British family-run London Hotel, the rooms are well maintained with each room having its own shower, TV, coffee/tea making facilities, telephone internet access, a small fridge and a complimentary bowl of fresh fruit.

For warm summer evenings the hotel has a small courtyard where residents can relax.
---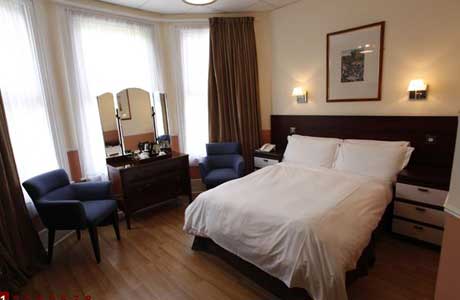 Glenlyn Guest House 
6 Woodside Park Road, North Finchley, London 
Many guests have described this discount London hotel as "fabulous" so I had to add it here.

the hotel is within a set of large Victorian terraced houses. Many of it's original features remain to give the hotel character and our visitors a authentic London stay. The hotel offers high standards of comfort and service with each room having its own homely and cosy décor.
Apartments are also available for families and guests who would like a little more space during their stay.
---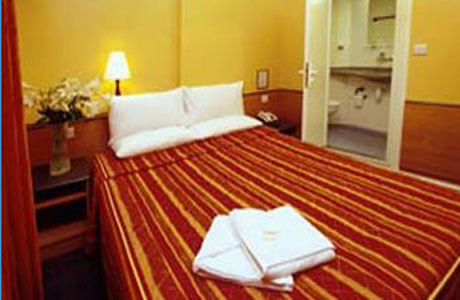 Tudor Court Hotel 
10-12 Norfolk Square, London W2 1RS 
The Hotel is situated in the heart of Paddington area within easy reach to many major tourist attractions as well as transport links.

Norfolk square is a very pleasant and quiet area which is often a welcome respite from the hustle and bustle of the busy London streets.
---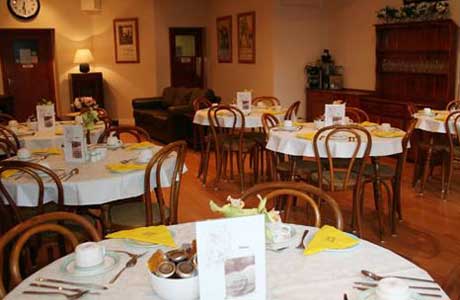 The Euro Hotel 
53 Cartwright Gardens, London WC1H 9EL 
Overlooking lawns and tennis courts, the recently refurbished hotel consists of three white-fronted Georgian buildings. A full English breakfast is included in the price of the room which is a bonus as many of the larger hotels do not provide this. The hotel has several very large rooms which can accomodate families and groups.

Centrally located in the popular Bloomsbury area of London, it is ideally placed for both tourist and business guests.
---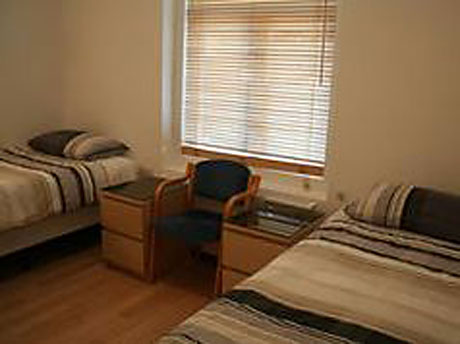 Adria Hotel 
44 Glenthorne Road, London W6 0LS
Situated in Hammersmith west London, this is a small family run hotel come B&B. All rooms are en-suite and provide all the services expected from a modern hotel such as free internet access, a TV, safe and drink making facilities.

Often described as a "little gem" of a hotel offering clean, comfortable rooms with friendly helpful service.
---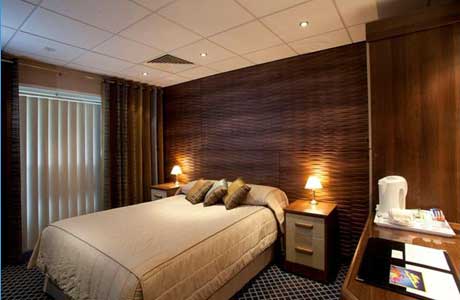 West Ham United Hotel 
Green Street, West Ham United Football Club, London E13 
This is an unusual hotel sited in east London which although not close to central London is close to transport. the hotel is part of the West Ham united football club and many of the rooms over look the playing ground.

Discount London hotels don't come more unique than this and at only £65 per night it really is a great place to stay.
---
Grantly Hotel 
50 Shepherds Bush Green, Shepherds Bush, London 
The property is about 75 years old, and was a former mansion. It has been attractively refurbished to ensure that our guests receive everything they would expect from a quality discount London Hotel plus a little extra.

The hotel is situated in Shepherds Bush and is close to the famous Shepherds Bush Empire which holds regular music events. It is also close to a Central line Tube station which makes getting to central London very easy.
---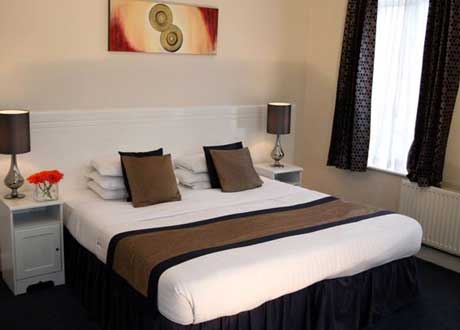 Kingsland Hotel 
Kingsbury Circle, Kingsbury, London 
A perfect place to stay if you are attending events at either Wembley Stadium or Wembley Arena . It is also only 30 minutes by tube many top London attractions.

The hotel offers comfortable, well equipped en-suite rooms and has stylish public areas. This is boutique style hotel with many local amenities such as restaurants, pubs and shopping malls.
---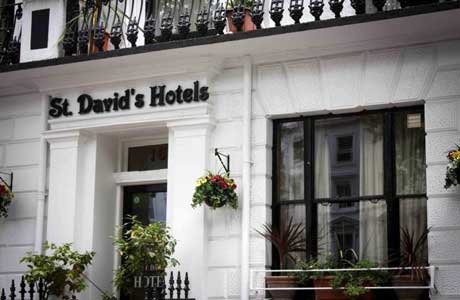 St. David's Hotels 
14-20 Norfolk Square, Paddington, London 
The St. David's is a family run, hotel in Paddington in a quiet garden square in the heart of central London.

Offering excellent value for money, we provide a warm welcome, clean and comfortable rooms and a delicious breakfast.
The hotel is a grade II listed Victorian house with rooms range in size and are either front facing with a lovely view of Norfolk Square or back facing which are quieter rooms.
These Discount London hotels are all Independant, I have left off the big chain hotels as I think these smaller hotels are worth highlighting.
Back to top of this Discount London Hotels Page
Home

>
London Hotel Rooms
> Discount Hotels