Florence Nightingale Museum London
The Florence Nightingale Museum is as the name suggests a museum about the woman behind the legend of the lady with the lamp.
Her influence on British and world health care in hospitals is famous all over the world and it is fair to say that she made one of the most important contributions to general nursing are practices in the last 200 years.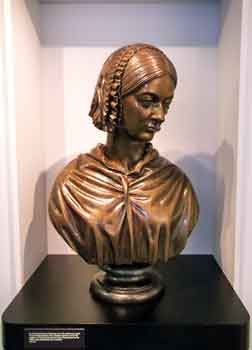 The museum tells her private story, from her privileged background and her struggle to break free from social and gender barriers, through to her work during the Crimea war and later her reforms and training in nursing in general.
Opening Hours and Admission
2 Lambeth Palace Road, London, SE1 7EW
Tel.(0)20 7620 0374
Email: info@florence-nightingale.co.uk
---
Opening times
The museum is Open Every day 10.00 – 17.00
(closed Good Friday, 25th & 26th Dec)
Admission costs
Adult £7.80 (Conc.£5.30)
Child £4.80
(includes free audio tour)
This museum will interest a wide audience from those who may be considering going into the nursing profession themselves.
Those who have a interest social history and the great reforms and changes which have been made in caring for our sick.
Those who simply want to know more about Florence herself. Young and old will enjoy this small museum.
Events
Find out whats happening at the museum this month July 2014 PDf
The Museum Collection and Highlights
The Florence Nightingale museum is rather small but they have created a very unusual visitor experience which explores Florence's Life in a rather novel way. 


rather than the usual display cabinets you often find in museums they have created spaces within the exhibition room which depict aspects of her life in a very tactile and intriguing way.
The museum is split into three main areas covering her early home life, her nurse teaching and the time she spent in the Crimea war. There is also a photographic and video display which goes all the way around the outside of the walls which takes you through various aspects of nursing through the ages.
You are invited to take a stethoscope with you into the museum which provides you with a audio tour when it is activated against points scattered throughout the museum.
The Florence Nightingale museum holds many personal items belonging to Florence and many of these are on display such as:
The slate she used as a child,
Her pet owl Athena,
The Turkish lantern she used in the Crimean War
Our Review of the History of Florence Nightingale Museum
With stethoscope around my neck which I thought was a fun way of having a audio tour, My first impressions of the museum as I walked in was wow this is different.
The room is fairly dimly lit and rather than rows of display cases you see round display areas decorated in various fashions. The first looks like it is made from a bush, the second from brown wooden bookcases the third from Victoria blue and white tiles.
These round display areas depict various aspects of Florence Nightingales life. So the first, the green bushy garden area is about her early life at home.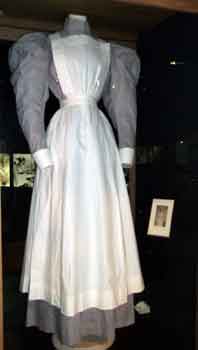 There are pictures of her and her family and various objects from her childhood within the display and bird song can be heard to make you feel like you are in a garden.
The second area depicts her nurse teachings later on in life and so there are copies of the various books she made popular about how nurses should care for the sick and how hospitals should be run and organised. One of her nursing uniforms is also on display here.
The third area depicts her time during the Crimea war. Within the tiled circle display it is made to feel like the trench hospital she would have worked in.
The whole place is covered with interactive things to help tell her story, such as spy holes to look through into and see pictures of her life and aspects of the life in general at the time. There are also many audio points where you place your stethoscope and listen to the commentary.
All of this sounds fun and it is, especially for children as there is plenty for them to do and see. However I would say that I personally felt that a lot of information was left out and that you didn't really get a sense of nursing in the way you would think you would in the Florence nightingale Museum.
I am rather torn about my opinion of this museum. I can see that they have tried to make the museum different and entertaining which they have, but I do think they have lost something too. I did rather think that this museum was more for the younger visitors than for adults.
Having said that i still think it is a great place to visit , you will only need about an hour to see everything and even if you don't take away a lot about nursing you will have had a glimpse into the life of one of its most important educators and influencers.
Latest Exhibition
Jack the Dog, hero of the First World War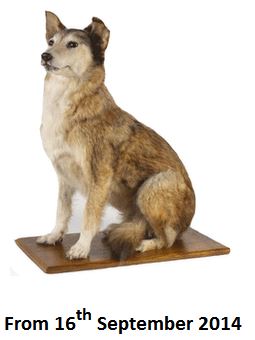 The Museum is happy to announce the arrival of Jack, the canine companion of heroine nurse Edith Cavell. Jack is on loan from the Imperial War Museum for three years.
Nurse Edith Cavell was helped over 200 Allied soldiers escape from occupied Belgium. Jack was a stray who befriended Edith, and while she took him on early morning walks from the hospital provided cover for the escaping wounded soldiers.
Edith was executed by a German firing squad in 1915, however Jack lived for another 7 years with friends.
Back to the top of this Florence Nightingale Museum Page
Home

>
Medical Museums
> Florence Nightingale Museum
---