Hogarths House
18th century Home Of William Hogarth 
Hogarths house was once situated among farm land; it nestled in the corner of an orchard and was I imagine a haven of peace and tranquility. Unfortunately the 20th century has not been so kind to this charming little house. It is now situated at the side of a very busy dual carriageway and is surrounded by office buildings.
Having said that once you wander into the high walled garden of the house you are instantly back in the 18th century (if you can ignore the road noise behind you, that is).
Opening Times and Admissions
Hogarth Lane, London W4 2QN
Tel. 020 8995 6757
Email: hogarthshouse@laing.com
Opening Times
Tues - Sun throughout the year
Closed Christmas and eater bank holidays
12 - 5pm
Admission
It is Free to visit the house and garden
---
William Hogarth is mainly famous for his wonderfully detailed engravings of London and its peoples during the 1700's.
They depict scenes which illustrate the moral state of the country at the time, with his most famous pieces being called "A Harlot's Progress", "A Rake's Progress" and "Marriage-a-la-Mode".
Hogarth lived in the house from 1749 until his death in 1764. His wife, sister and step cousin remained in the house until 1808.
The House
Hogarths house as it is now known was built around 1717 in the corner of a farmers Orchard. It only had one previous owner before William bought it for his family, a Pastor Ruperti.
The house is surrounded by a high brick wall and includes a small but lovely garden. In which stands a mulberry tree which is believed to be older than the house.
The house has almost been lost forever during its history. First it was badly bombed in the Second World War and then later in 2009 after a fire. In both cases the house was repaired and brought back to as close to its original condition as possible.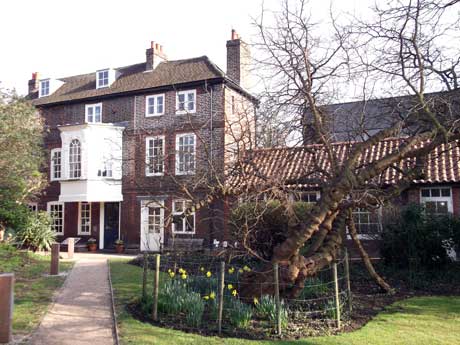 The public have access to two floors of the small house, a gallery area at the rear of the property and the gardens. It is sparsely furnished with pieces of furniture which match Hogarths original furniture taken from original drawings and photographs of the property.
Some of Hogarths original possessions have been returned to the house such as:
His small painting chest
His dog's wooden stool
His wife's mourning ring
In every room the walls are covered with Hogarths paintings and drawings and in the main hall there is a rather striking painting of Hogarth with his faithful Pug.
The kitchen of the property has been turned into a small gift shop and there is always a helpful member of staff ready to greet you as you arrive.
My Review of Hogarths House
To get to Hogarths house you have to walk along side a very busy, noisy and rather ugly dual carriageway. I couldn't quite believe that this charming little house has been left stranded by the side of this modern day monstrosity, but there it stands, a testaments to more tranquil ties gone by.
You enter the house via the gardens which you get to through a archway in the high red brick wall which surrounds the property. Once inside despite the noise from the traffic behind you, you are instantly transported into a charming little garden complete with ancient tree and flower beds.
I was greeted by a very friendly member of staff as I entered the house, who handed me a leaflet to the property and told me how best to visit the property. It is a very small house with only one main room downstairs and three rooms upstairs, however I must say that I loved this house. It is simple in layout and decoration but has a wonderful warm and friendly fee to it. I could have quite easily seen myself living there.
The walls are painted a pale grey/blue which apparently is close to the original colour of the property when Hogarth lived there.
Wood panels cover the walls and bare floor boards run throughout Hogarths house.
My visit probably only took me about 30 minutes but during that time I really did feel that I got a sense of the artist and his life at the house. His work on the walls bring to life London during his lifetime and how he obviously felt about the lack of moral standards at the time.
I can't praise this little house museum enough, I thoroughly enjoyed my visit and would definitely recommend that you take the trouble to seek it out. There are many other local attractions and places to visit to make your journey to Hogarths House worthwhile.
Back to top of Hogarths House Page
Home

>
Historic-Houses
> Hogarths House
---