Horniman Museum Whats On
The Horniman Museum Whats On page will keep you up to date with all new and exciting exhibitions, events, courses and family events taking place throughout the coming year. 
The museum always has a very varied and inclusive set of yearly events scheduled including family events to inspire and have fun with.
Make sure you never miss anything new going on at the museum by subscribing to either our RSS feed or our FREE monthly London Museums News Ezine.
---
Current Exhibitions
Dinosaurs: Monster Families
Until Sunday 30 October
Discover how dinosaurs looked after their eggs, nests and babies in this fascinating interactive exhibition for all the family featuring life-size skeleton casts, fossilised eggs and more.

Events
Find out what's happening at the museum this month. July 2014 PDf
---
Past Exhibitions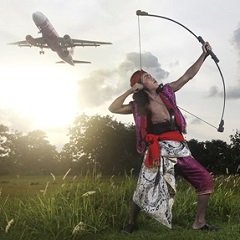 Project Tobong
Until Sunday 10 April 2016
A display of striking theatrical portraits of the Ketoprak Tobong Kelana Bakti Budaya, one of the last remaining nomadic theatre troupes in Java. The portraits are the result of a collaborative project by British artist Helen Marshall and Indonesian artist Risang Yuwono.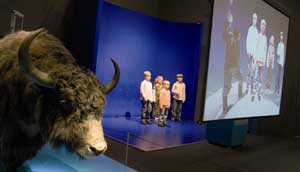 Extremes - Until 2nd November 2014
Ticket prices: £3.30 Child, £6.60 Adult, £16.50 Family
A hands on exhibition which gives visitors the chance to find out how animals and plants survive in extreme environments. 
Rainforest of the Sea

9 March - 15 September 2013

Balcony Gallery

A photographic exhibition by Jamie Craggs.

The exhibition highlights the amazing diversity of life within the South East Asia's coral triangle.

Also highlighting the threats that are facing coral reefs..

Amazon Adventure

6 February 24 November 2013

Tickets Child £3, Adult £6,

This exhibition will take you on a trip along the Amazon, where you will discover exotic plants, unusual animals and fascinating cultures.

Current environmental dangers which faces  the Amazon, such as cattle ranching, overfishing and logging Are also explored.

This is a hands-on experience which will allow you to touch the tummy of a giant catfish and feel the power of an electric eel. There are also multimedia displays including live fish a stingray.

Pearly King

18 January - 18 February 2013

The Pearly King of Dulwich costume will be on display.

The Body Adorned: Dressing London

24 Mar to 06 Jan 2013 FREE

This temporary exhibition takes a look at the various body decorations which can be seen throughout British culture throughout the ages.

Britain has always been the home of many different cultures all that bring their own individual dress and way of expressing who they are. The exhibition explores these decorations such as:

Tattoos
Saris
Nail bars
Distended ears
Scarification

Mummers, Maypoles and Milkmaids

Until Sun 9 Sept 2012

This is a photographic exhibition which brings together 50 photographs depicting various English rituals, dances and symbolic performances.

As a nation we have many strange rituals from our Morris men to the Green man and throughout the year there are many festivals held to celebrate our rich historic and mythical legends. These photographs bring together many of them held throughout the country in on e year. The exhibition is displayed on the Balcony gallery.
Back to the top of this Horniman Museum Whats On Page
Home

>
Horniman Museum
> Horniman museum Whats On
---