Imperial War Museum London 
First World War Exhibition
The Imperial War Museum London has always had the aim of keeping the past alive to inform future generations. The First World War is now nearly a hundreds years ago and many of today's generation may know little about the causes and the details of the war. It is important that this information not be lost but passed down so that we learn from our past experiences and mistakes.
The museum has an impressive collection of objects and artefacts from the First world war, too many for me to list hear, so I will just highlight a few items and give you a flavour of this exhibition. Believe me there is so much to see in this one exhibition that you could almost spend your whole day in this one exhibition.
The Trenches Experience
I will start with one of the exhibitions main attractions, one which will appeal to all ages. As the name suggests it is not a display but a visitor experience, the aim being to give the visitor an idea of the conditions the soldiers lived and fought in during the war.
As you enter the exhibition you will notice that it is quite dark, only lit by small lights placed here and there. You are surrounded by high walls made of mud and wood and all the time in the background you can hear shouting, gunfire and explosions. As you walk along the trench you will come across various scenes of soldiers carrying out different duties, these are accompanied by audio.
One scene is of a captain confirming orders over a telephone as he sits in his makeshift trench office; another is a scene of a group of soldiers being given their orders just before they go over the top, but one of the most poignant scenes is of a soldier reading out his letter home of what life is like for him in the trench.
It is quite difficult to film the experience but if you make sure you have your speakers turned on and turned up this short little excerpt of the experience will give you an idea of what it is like.
I have chosen three displays in the Imperial war museum London first world war exhibition to highlight the variety of objects you can see in the museum.
Machine Gun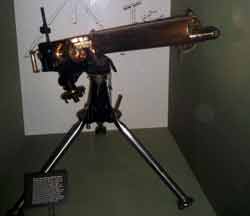 The machine gun played a very important role during the First World War trench fighting methods. It was so efficient at killing large amount of soldiers in one go that it became almost impossible to attack the enemy from the front without causing a high number of casualties.
The combination of old fighting techniques and the invention of such an efficient gun was probably the reason why there were so many dead during this war.
Jack, Edith Cavell's Dog
Sitting in the corner of one of the display cabinets is that rather sweet looking dog. His name was Jack and he belonged to Edith Cavell, who was a nurse and British spy.
During the war Edith saved the lives of hundreds of men and was executed for her trouble by the Germans. Her dog was rescued by Princess Mary de Croy and he lived his days out in Belgium.
After death his body was embalmed and sent back to England to Edith's home county of Norfolk. Since 1975 he has belonged to the Imperial war museum London to look after.
German Dummy Observation Tree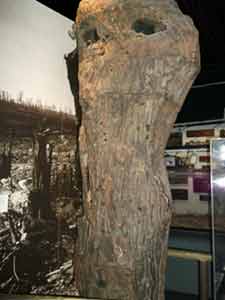 During the war many new techniques were invented to try and spy on the enemy. Some of these were stranger than fiction and I suppose were designed to be so strange that they would fool the enemy easily.
One such technique which was devised by the Germans was to disguise soldiers as trees and place them close to the enemy lines so that they could over hear what was being said so that any plans could be passed back.
On display is one of these metal trees which to be honest is quite convincing, especially if it was surrounded by similar real trees. Bullet holes can be seen in the metal which is another indication that this tree was placed close to the front line, the tree was double skinned with metal and so the occupants may have survived these attacks.
The Imperial War Museum London First World War Exhibition is a must see.
Back to the top of this Imperial War Museum london Page