Jewish Museum London
What's On Page
The Jewish Museum London is a vibrant and fascinating museum. In addition to their regular exhibits they also have a very varied and regularly changing exhibition space. 
Having recently visited one of their temporary exhibitions I can tell you that they are certainly worth a visit and are always both interesting and often intriguing and thought provoking.

Visit this page regularly to find out what's new at the museum. Why not sign up to our RSS feeds or Monthly Newsletter and you will be kept up to date automatically.
---
Current Exhibition

Explore the streets of 1960s London through the eyes of eminent photographer Dorothy Bohm at upcoming exhibition Dorothy Bohm: Sixties London.

Step back in time and discover the diversity of life in London in the 1960s with photographs focusing on its inhabitants from all walks of life, from schoolchildren to fashion-conscious young adults to market traders. 

Bohm has worked as a photographer all around the world. She was closely involved with the founding of the Photographers' Gallery and was its Associate Director for 15 years. 


Discover the menswear revolution in a journey from the tailoring workshops of the mid-19th century to the boutique revolution and mod culture of the swinging '60s

Memory Quilts: Triumph Over Adversity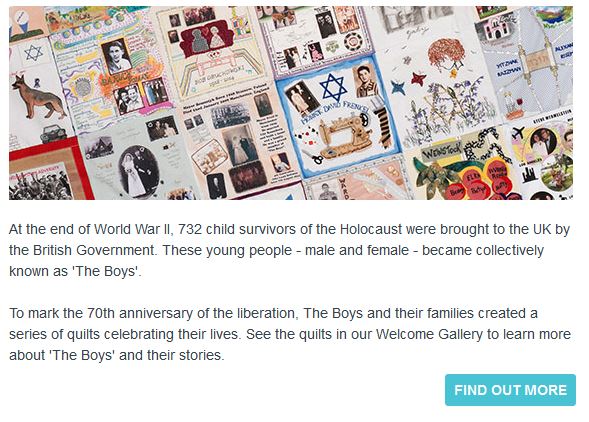 Events
Past Exhibitions Jewish Museum London

Don't miss this cutting edge exploration of what unites and divides us all.                         


Come and explore the Jewish Experience of the First World War, 100 years since its start, with our temporary exhibition For King and Country?.
Download This Months events List for the museum JULY 2014 PDF
Amy Winehouse
A Family Portrait

3 July – 15 September 2013

R.B.Kitaj: Obsessions

21 Feb - 16 June 2013

R. B. Kitaj was one of the most significant painters of the post-war period.

The exhibition at the Jewish Museum London will feature over 20 works in which Kitaj explored his Jewish identity.

Adi Nes: The Village

11 October 2012 – 3 February 2013

This is the first ever UK show for the well known Photographer Adi Nes.  Adi has created a fictional Village, where staged pastoral images permeate with an subtext of anxiety

Ludwig Guttmann: Father of the Paralympic Games

15 July - 16 September 2012

To celebrate the London Olympics the museum London have put on a new temporary display to tell the story of the originator of the Paralympics games, Ludwig Guttmann.

From it's humble beginnings in 1948 with a simple archery contest the Paralympics will see over 4,200 athletes compete in the 2012 games.

Ludwig Guttmann was a Jewish refugee from Nazi Germany, neurologist who was passionate about sports and the inclusion of everyone regardless of any disability.

World City - Refugee Stories

20 June - 16 Sept 2012

FREE

This exhibitions tells the interesting stories of nine refugees, from nine different countries, who have come to London over the last nine decades.

The exhibition includes photographic portraits of the refugees in their London homes and items that have a special meaning to each of them.
Home

>
Jewish Museum
> Jewish Museum Whats On