Londinium Roman London
at the Museum of London
Londinium is the Roman name for the city they created which eventually became the basis for today's modern London, the capital city of the UK.
The roman gallery in the museum of London is quite large and takes up most of the ground floor level. The roman's played a significant role in Britain's history and changed our history and such there is a lot of history to cover in the gallery including:
The people
Town Life
Invasion and settlement of the roman's in Britain
The roman army
Beliefs
Crafts and trading
Most of the objects of which there are around 47,000 were mainly discovered during building works carried out in the city of London and surrounding area at the end of the last century. They include a wide range of different materials which have amazingly survived in the London clay. These include ceramics, marble, metal, coins, glass, wood, leather and bone.

Londinium was founded in about AD50 and was soon a major centre. There was a large range of people who lived within the city comprising of both civilians and army personnel, they comprised of both roman's as well as native peoples from Britain.
High Street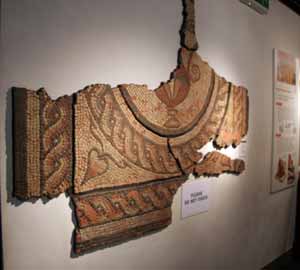 In the roman gallery there is a mock up of a roman high street where you can walk through and see a bakery and carpenter's workshop which have been set up as they would have been at the time. There is also a pottery shop which was destroyed by Queen Boudica's tribe in AD60.
This is a great area for both adult and children alike. The layout brings the roman period to life as you can see how the roman's lived on a day to day basis. What is quite surprising is just how opulent some of the homes were at the time of course these would have belongs to roman's of some standing and wealth.
The following pictures show some of the items on display. I particularly like the ceramic plates and metal dishes and if you look closely you can see a tiny mouse making off with some crumbs.
A nice touch and sums up the museum of London's attitude to adding that little bit extra to their exhibitions to make them more enjoyable and friendly to their visitors.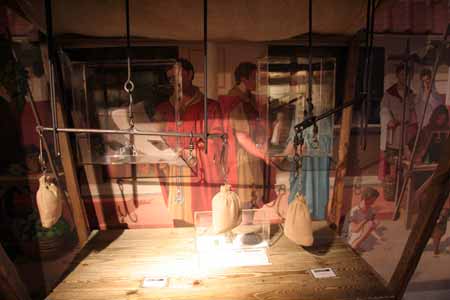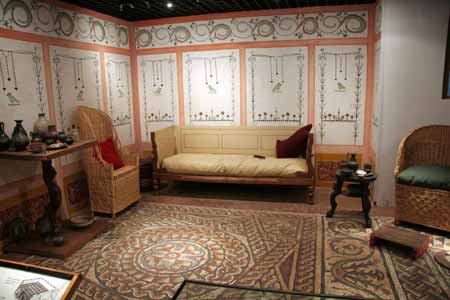 Back to the top of this Londinium Page