An Installation
Sitting the Light Fantastic
Until Autumn 2012 in the front garden
Giant chairs and lamps made from woven fibre optics have been displayed in the front garden of the museum. The items have been inspired by the museums collection and although looks great during the day really comes to life once it gets dark and turns the front garden in to a fairy tale light experience.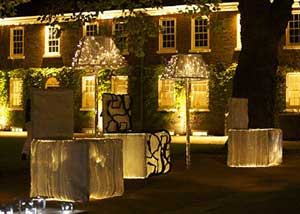 Open Day
Restored Historic Almshouse
Some of the 18th century almshouses attached to the museum of the home, still remain as they were when they were originally homes. These are normally not open to visitors but several times a year they are opened up to the public.
Open days are:
18th Jan,
1st, 4th, 7th, 15th, 21st Feb,
3rd, 7th, 21st March,
4th, 7th 18th April 
2nd, 5th 16th May 2012
Entry times are: 11am, 12pm, 2pm and 3pm.
There is a small entry charge: Adults £2.50.
Talk

Write Queer London
Sat 4th Feb 2012, 1.00 - 4.00pm, free event but only open to 15 visitors. Book in advance by tel. 020 7739 9893
Historian Alison Oram will examine how queer desire challenged the heart of the heterosexual marriage and the postwar home. Followed by a poetry workshop 
with Cherry Smyth.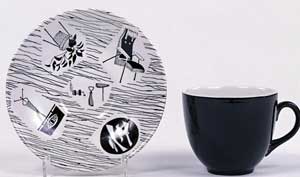 Christmas Past: 400 Years of Seasonal Traditions in English Homes 
Tuesday 27 Nov - Sunday 6 January
Every year the Geffrye Museum decorates its period rooms for the festive season. Giving an insight into the Christmas's over the past 400 years. With sounds and scents to heighten the senses and warm the soul, this annual Christmas exhibition will certainly warm the cockles of your heart.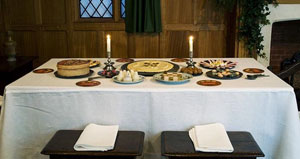 Ceramics in the City
21,22,23 September
Porcelain vessel by Tony Laverick, Ceramics in the City
Range of selected potters from around the country, a mix of both leading names and rising talents.
Classic tableware and other functional domestic objects to purely decorative and quirky one-off pieces.
The show will take place in the museum of the home contemporary gallery. Visitors will have the opportunity not just to browse and buy, but also to meet the makers and watch free demonstrations. Craft activities will be run to entertain children on Saturday and Sunday. A special preview evening will be held on Thursday 20 September from 6.00 - 8.30pm. The restaurant will be open serving drinks and snacks.