National Maritime Museum London
What's On Page
The National Maritime Museum London is housed in one of London's most splendid buildings and as a place to visit has to be one of the most informative and captivating museums.
Covering Britain's Maritime history the museum has much to offer visitors of all ages, especially now that it has added new modern galleries.
Whether you have an interest in Britain's history, the sea or sea going vessels the museum will be able to offer you a great day out.
This What's on page will keep you up to day with the many new and exciting exhibitions and events the museum holds throughout the year, many of them free to attend.
Current Exhibition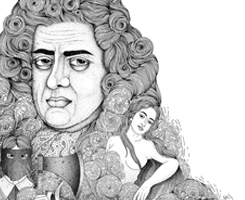 Samuel Pepys: Plague, Fire, Revolution

20 Nov 2015–28 March 2016 £12 for adults
Immerse yourself in one of the most chaotic periods in British history, with the witty and irreverent Samuel Pepys as your guide.
This exhibition is the largest ever to delve into the scandalous world of Stuart London, from the execution of Charles I to the Glorious Revolution. Explore this period of revelry and rebirth, revolution and catastrophe, which saw kings fighting for their crowns and London transformed into a world city following the devastation of the Plague and the Great Fire.                        
---
Past Exhibitions National Maritime Museum London
Broadsides! Caricature and the Navy 1756 - 1815

25 October 2012 - 3 February 2013 FREE

Explore the Royal Navy through the eyes of the caricaturists.

Covering aspects such as battles, politics and the big personalities of the time.

This display highlights the importance of the Navy during this period not just for the countries security but also its influence on society.

Titanic' Remembered

March - 30 September 2012

Admission costs - free

It will be 100 years since the great ocean liner "Titanic" sank in the Atlantic Sea. The story of the great ship and the personal stories of the passengers and crew have gone down in history as one of the greatest ocean disasters. Even today the stories still manage to captivate a modern audience and this exhibition concentrates on some of these stories which featured in the book written by Walter Lord, and later a film " A night to remember".

On display will be ephemera from the titanic from the private collection of Walter Lord who collected them before he wrote his book.

Royal River

27 April - 9 September 2012

10.00 - 17.00

Adults £11, Conc. £9, Children £5

This impressive exhibition brings together 400  captivating and unique objects.

The exhibition is being held to celebrate the Queens Diamond Jubilee.

The exhibition presents the story of the historic river Thames in all its glory.
---
Please check with the National Maritime Museum London before visiting to make sure that there are no changes to the time table.
Back to the top of this National Maritime Museum London Page
Home

>
Natural Maritime Museum
> Natural Maritime Museum Whats On
---