Pearls Exhibition
21 September 2013 - 19 January 2014
Pearls Exhibition - We all know that the V and A Museum has a wonderful collection of jewellery from around the world and through the ages. In a collaboration with Qatar Museums Authority, the museum has decided to put together a stunning exhibition focusing on one of the world's most sought after jewels, the Pearl. 
The wearing of pearls has stretched back millennia and is a item of jewellery coveted by possibly every nation. Natural pearls are hard to come by and as such they have developed their own mystical stories around them, making them even more desirable.
This exhibition will cover the following aspects:
Wonders of nature - This covers shells and the formation of pearls.


Pearl fishing in the Gulf - Natural oyster pearls were fished in the Arabian Gulf from the first millennium BC until the decline of the trade during the mid 20th century.  It is said that around 2000 oyster shells have to be opened before a single pearl is found.


Pearl trading in the Gulf- Once a very lucrative trade for the Middle East, the pearl s a now a rare find.


Pearl jewellery through the ages - From the Roman Empire to the roaring twenties, the Pearl has been a symbol of wealth and opulence.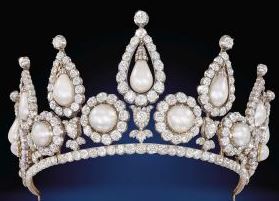 Authority and celebrity - The Pearl was a symbol of power and authority, often used in crowns and ceremonial robes to denote rank and power.


Origins of the cultured pearl - Discover how mankind learned how to grow their own pearls.


South Sea pearls - Cultured pearls from the South Seas can be found in many colours. Their formation and colour are dependent on the type of molluscs they are grown in and where they are farmed.


Contemporary design - How Pearls are used to today.
Prices
£10.00 Full (+ booking fee )
£8 Senior citizens (+ booking fee )
Back to the top of this Pearls Exhibition Page
Back To Victoria and Albert Museum
Back to London Museums Home Page