The Science Museum Exhibits
In the Wellcome Wing
The Science Museum exhibits have changed and increased over the years and none so much as the addition of the new Wellcome wing to the museum. These are new galleries which are designed to bring science to life and to engage more people through interactive and multimedia displays.
The galleries have a very space age feel about them with ambient lighting and lots of computer screens and touch pads to get involved with.
If you enjoy taking part in an active exhibition rather than passively looking at things is for you then this new wing to the Science museum will delight and inform you.
The Wellcome wing galleries cover 4 floors and each floor covers a single subject matter. See below for a brief description of each gallery.
Antenna
A multimedia gallery introducing the latest technology news, gadgets and the latest breakthroughs.
Who Am I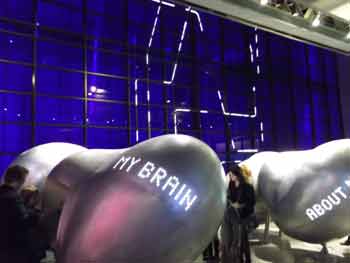 As the name suggest this gallery is all about us as human beings and what makes us , us. Our personalities and individuality is explored as well as why weare the smartest creature on the planet.
The gallery contains giant pod work stations which invite you to interact with them in various ways. From seeing how you would sound as the opposite sex to how you may look as you get older.
A captivating gallery and set of Science Museum exhibits which will keep you entertained for hours.
Atmosphere
This is one of the new interactive galleries in the Wellcome wing. It is very much a hands on experience which is designed to demystify the subject of our climate and the changes it is going through. There are interactive screens which help you to explore some of the technology involved in researching our atmosphere as well as some science museum exhibits which reveal various key times in history which has affected our climate significantly.
A very modern gallery space and a new way to discover and learn within a museum environment.
The Garden
This space is designed for children of the ages between 3 and 6 years old. It is a enclosed space where parents can help their children explore first hand how things work. It is an introduction to science and from what I could see looks like a lot of fun too.
The garden looks like a play area but everything is in fact designed to teach small children about the world around them. Advisors on always on hand to help parents explain to their children what is happening and how to get the most out of the gallery.
In Future
This is a very new idea in the Science museum exhibits. It is one giant interactive touch screen where by many people can play short games which will show them how certain decisions they make could affect our future.
If you do not feel like playing along you can observe others playing and the results of the games on huge monitors on the wall. There are feedback stations where by people can comment on what they thought of the games and questions and whether or not they agreed with the outcomes etc.
The secret life of the home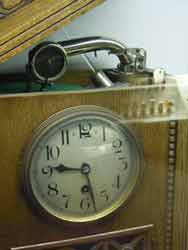 This gallery looks at the gadgets and appliances in our homes. Items we often don't give a second thought to such as our vacuum cleaner or our microwave.
The items range mainly from the 19th and 20th centuries although there are few items dating back to ancient Rome. The gallery looks at how fashions have been a deciding factor in how our household appliances have looked and how they may develop and change in the coming years.
This is an interactive gallery where you can explore for yourself how things really work.
My personal review of these galleries
I will admit that not all of these Science museum exhibits in these galleries appealed to me mainly because I like my museums to be more traditional. I used computers every day so I didn't really feel like sitting in front of screens even if they were attractively designed in imaginative ways.
I did like the atmosphere gallery but mainly because of the design and feel of the gallery itself, very space age.
These galleries are much smaller than others in the Science museum and so they can get a little crowded at times. They also seemed very popular and nearly every pod or screen had someone using it.
I can see the benefit of having these sorts of galleries to compliment the more traditional areas of the museum as it does break up the day quite nicely.
It also helps to engage the younger generation who are perhaps more comfortable using touch screens and would find a traditional museum a bit boring.
These galleries are certainly worth visiting but if you take my advice you shouldn't spend most of your day here. 
Back to the top of this science museum exhibits page
Back to main Science Museum Page