Sherlock Holmes Museum
221b Baker Street
The Sherlock Holmes Museum at 221b Baker Street, has to be one of London's Most famous addresses.
This museum is dedicated to the life and stories of Mr Sherlock Holmes the famous detective and his trusty side kick Dr Watson.
This video will give you a better idea of the house and the displays you will be able to see on your visit. You will even be able to see Dr Watson in person and who you may be lucky enough to meet. 
Ok I know he wasn't a real person but you tell that to the many of thousand visitors who flock to the museum every year. In fact the museum is so authentic that I dare you to say that he wasn't a real person.
221b Baker Street was built in 1815 and has been preserved as a fine example of a building and interior from that period.
The house is decorated exactly as described in the books by Arthur Conan Doyle and so any fan of Sherlock Holmes will be familiar with the setting.

Although you are free to wander around the Sherlock Holmes Museum by yourself, on some days you may come across Dr Watson or Mrs Hudson who will be able to answer any questions you may have.
Opening Times
221b Baker St. London NW1 6XE
Tel. 0207 224 3688
Email - curator@sherlock-holmes.co.uk
Open every day (not Christmas Day)
9.30 am - 6pm.
Admission Cost
Adult £10 Child (Under 16) £8.
www.sherlock-holmes.co.uk
The Sherlock Holmes Museum Exhibits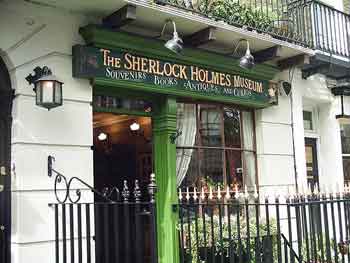 1st floor
Study - Sherlock is famous for sitting in study with Dr Watson, smoking his pipe or playing his violin as he mulled over various aspects of his case. So this room is probably the famous and well known room in the house.
Visitors are allowed to have their picture taken sitting in his famous chair by the fireside and to wander through into his bedroom, which looks like he has just left it. Many of his personal items are scattered around the room just as he would have left them, such as his pipe, notebook and slippers.
2nd Floor
Dr Watsons room - This is situated at the back of the house and overlooks a small courtyard where you can imagine him sitting and wondering what scrapes the pair were going to get into next.
Mrs Hudson's room - This room is situated at the front of the house. Mrs Hudson was the landlady of the house and also seemed to be Mr Holmes personal housekeeper too as she prepared all the meals and did all of the household chores.
3rd Floor
Scenes from the stories - On the third floor a rather unusual exhibition has been arranged which depicts various scenes from some of the Sherlock Holmes Books. Wax figures of all the main characters can be seen as well as some of the scenes and villains from the stories are displayed.
Shop - A shop is located on the ground floor where you can buy all sorts of Holmes related items.
Back To the top of this Sherlock Holmes Museum Page
Home

>
Unusual Museums
> Sherlock Holmes Museum
---