The Sir John Soane Museum
The Sir John Soane Museum is one of the more famous of the smaller London museums and is certainly one of the most eccentric and fascinating.
The museum is just a short walk from Holborn underground station and situated in the beautifully relaxed surroundings of Lincoln's Inn Fields, this is a must -see for any enthusiast of art, architecture and museums.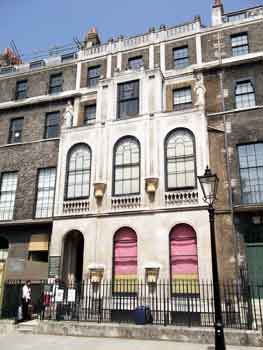 Established in 1833 by the great architect John Soane, it remains virtually the same as when he lived there.
He opened up his home to the public in order to display his personal collection of architectural and artistic treasures that he had built up during his lifetime.
Intended to be a resource to educate and inspire both students of architecture and the general public, this charming venue continues to achieve that same aim nearly two hundred years later.
With beautiful objects everywhere you look, a visit to this museum will be something that you will remember for the rest of your life and will certainly enjoy telling your friends and family back home about.
Opening Times
Free (donation appreciated)
Open
Tues. to Sat. 10am - 5pm (last admission 4.30pm)
Closed Sunday, Monday and Bank Holidays
Address
Sir John Soane's Museum
13 Lincoln's Inn Fields 
London 
WC2A 3BP
Tel: 020 7405 2107
This is an extremely popular museum and it does get very busy. The rooms and spaces are actually relatively small and so it can get quite cramped inside. If you can, it is therefore best to visit in the morning when the museum has just opened, before the crowds build up!
Sir John Soane Museum Highlights
The entire museum is a highlight! Many students of architecture visit to view the building, its interior spaces and construction, because as an example of an 18th century home it is quite unique and an outstanding survival of the work of one of the most successful architects of that period.
With so many amazing artefacts it is hard to single out particular objects, but one would surely be the large stone Egyptian sarcophagus in the Crypt which Soane purchased in 1824 when the British Museum apparently refused to pay the asking price.
Another undoubted highlight would be the famous series of Hogarth paintings titled A Rakes's Progress displayed in the Picture Room (due to re-open to the public June 2012).
Candlelit evenings.
On the first Tuesday of the month from 6 - 9pm, the museum is opened up in the evening and lit by candlelight. Now this is an incredibly atmospheric venue at any time, but to experience it in the flickering light of candle flames must be wonderful.
As you can imagine, these evenings are exceptionally popular. Numbers are strictly limited, so arrive early from 5.30 (last entry 8pm). 
The Galleries
The Dining Room and Library
These rooms were used by Sir John Soane to entertain his guests and as a library for his extensive book collection. Hanging above the fireplace is an enigmatic portrait of the great architect, painted by Sir Thomas Lawrence in 1828.
The Study and Dressing Room
These small rooms are filled to overflowing with antique marble fragments from Rome. Sir John Soane's writing desk can be found here at a window that looks out onto a central court, the light from which illuminates these enchanting spaces.
The Picture Room
Unfortunately closed for restoration when we visited, these rooms contain more than a hundred pictures including some by Canaletto and William Hogarth.
The room includes walls that are infact movable, hinged screens, vastly increasing the wall space available to display artworks. The pictures have recently been arranged to how they were displayed at time of Sir John Soane's death.
The Monks Parlour and Yard
(Also closed for restoration when we visited)
The Crypt
Walking down cool stone stairs you come into the half-light and hushed atmosphere of the basement crypt, containing sculptures, urns, monuments and even a couple of 'death masks'. It is here where you can find the sarcophagus of King Seti I, which is reported to be one of the most important Egyptian relics ever to be found.
The Colonnade and Dome
These rooms reminded me of a smaller version of the great plaster cast rooms at the V&A Museum. With Roman and Greek sculptures, busts and architectural fragments, it reflects Soane's background steeped in Classical and Renaissance tradition.
Breakfast Parlour
A small but beautiful domed room set with mirrors, coloured engravings, miniatures and portraits and with views of the monument court.
First Floor Drawing Rooms
Up the stairs you come into the drawing room which Mrs Soane would use to entertain her guests. The walls are of a light 'Turner yellow' that was fashionable at the time, with matching furnishings and curtains.
Museum Shop
The small museum shop is a delight in itself. As well as the expected array of relevant books and postcards, it has a unique selection of high quality gifts, including a beautiful range of Ammonite shaped bowls and spoons in pewter, and designer necklaces of silhouette portraits in glass intaglio.
My Review of Sir John Soane's Museum London
It was a beautifully hot spring day when we visited the Sir John Soane Museum and we got there early knowing just how busy the venue can get later in the day.
At the entrance we were met by two very courteous attendants who politely asked us to wait a couple of minutes until there was enough room in the hallway for us to enter. We were asked to leave our larger bags at the entrance desk and were handed a clear plastic carrier bag to put our smaller items in, such as handbags.
This is because the interior of the museum can be quite cramped in places and there are so many valuable items surrounding you everywhere you go, that it would be far too easy to knock over a vase or sculpture with your shoulder bag as you turn around!
Once inside, we were met with a glorious array of artworks and historic furniture as we stepped into the Dining Room and Library, the walls of which glowed a beautifully deep, rich red colour, illuminated from the clear natural light coming from the adjoining windows.
We purchased the £2 visitors guide book which was well worth the small charge for the information it contained, but we soon gave up on trying to use it to navigate our way around and instead simply enjoyed wandering around from room to room, amazed at the bewildering variety of objects on display.
This museum is like a labyrinth with one small room leading onto another through narrow colonnades and chambers, lit from skylights above and with walls crammed from floor to ceiling with architectural fragments, fossils, sculptures, paintings and plaster casts. We have been here before, and we will certainly come again, for even though a small museum, there will always be something to see and wonder at, that we missed before.
After our visit, we enjoyed a pleasant stroll around Lincoln's Inn Fields before refreshing ourselves with a glass of ale in the wonderful little Ship Inn that is situated nearby.
We will certainly look forward to visiting the Sir John Soane Museum again, especially as it completes its exciting restoration programme.
Back to top of this Sir John Soane Museum Page
Home

>
Unusual Museums
> Sir John Soanes Museum
---