The V and A Museum
Introductory Tour
The V and A Museum has to be one of the largest museums in London. I had forgotten just how big it was and when trying to work out just how I was going to represent the museum on this web site I wasn't sure where to begin.
Luckily the museum offers free tours which last about an hour, giving you an excellent introduction to a selection of the items on display. These tours are designed to give you a flavour of the museum and to wet your appetite to discover more for yourself. I can tell you that it certainly did for me and I will be visiting the museum myself much more in the coming year.
This page is a brief outline of the tour I went on with our guide Jeremy who throughout the whole tour was bubbly and enthusiastic about both the V and A museum and the items in it. He made the tour very enjoyable and I certainly learned an awful lot about the objects we saw. I would definitely recommend that you take one of these free tours for yourself, it is well worth taking the hour out of your day.
The Tour
Main Hall - The tour began in the main entrance hall which is dominated by a large marine coloured glass sculpture which is suspended from the centre of the ceiling. 
They call the item the V and A chandelier even though it does not contain any lights. It is a recent addition to the museum's collection and was especially commissioned from the American artist Dale Chihuly in 2000.
We were told that this sculpture took a lot of time, money and energy to up-keep as it was a dust magnet and had to be manually cleaned every two weeks or so. A fact which I found rather amusing as personally I dislike the sculpture and wondered if they regretted their choice! However it certainly is a rather striking centre piece to the V and A museum as you enter.
Carved Ivory Plaque - we then moved on to one of the Medieval and Renaissance rooms and was shown a rather small Ivory plaque which depicts a young woman under a tree. It dates from 400 AD and is believed to be pagan in origin due to the picture and the symbols in it. It is one of two (the other being in Paris) and was used as a book cover.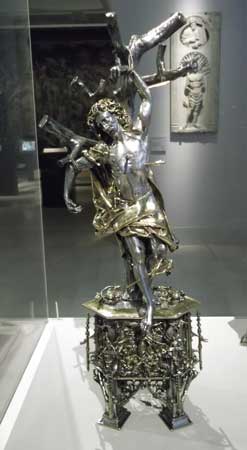 The Becket Casket - Normally I would have walked past this object without another look but I was amazed to discover that it is one of the most important objects in British history.
The casket is known as a reliquary which was a box which was supposed to contain some relic from a saint. This box is sadly empty but would have at one time contained an item belonging to Thomas Becket, Archbishop of Canterbury who was martyred in 1170.
The box dates back to around 1180 and is blue enamel on copper. Although around 50 or 60 Becket caskets were made this one we are told by the guide is the best one.
It cost the museum £4 million pounds to keep it in the country which illustrates its importance to the nation.
St Sebastian Reliquary With Relics - We were then shown another reliquary which still contained its original relics. This was a statue of Saint Sebastian who was ordered to be killed by by having arrows fired into him. He survived this attack but was later clubbed to death.
It is a stunning statue which was made in Germany around 1500, made from silver and is partly gilded.
The box at the bottom contains two silk parcels which they say contains fragments of the arrows, they can be seen through a small glass window.
French tapestry - we moved onto a very large French Tapestry made in 1425 which dominated a whole wall at the end of the gallery. Although the colours have faded over the years it is still a very fine example and depicts a hunting scene.

In the picture there are many characters finely dressed and amongst the crowd can be seen both bear and boar hunting. The figures in the tapestry are dressed in what is known as court dress which was their finest clothes. The tapestry has been used in the past as reference and as inspiration for todays designers.
Altarpiece - Our guide was a big fan of ceramics and so the next piece he showed us was one of his favourite items on the tour. It was a large ceramic altarpiece which came from Florence in1500.
It was a special piece as it was made in ceramic which was not common at that time and was a new process which had been developed by the Delongi family. The process was much cheaper to produce due to its material and allowed for the altar to be hand painted, whereas previous altarpieces made from metal or stone could not be.
Turkish Fireplace - After a quick walk through many other galleries we stopped in the Islamic gallery to look at a rather fine Turkish Tiled fire place which dated from 1715.
The guide explained how some of the designs were full of symbolism and provided an insight into the people who would have owned such a piece.
Tipo's Tiger - The next piece must be a favourite of many visitors as it is so striking and amusing at the same time. Tipo's tiger is a life-sized working automaton. It shows a Tiger attacking a British soldier and when the handle is turned the Tiger roars and the soldier cries out and raises his hand.
It dates from 1790 when India was being taken over by Britain and the sculpture was commissioned by a disgruntled Indian landowner who quite rightly disliked the British.
The tigers body also conceals a working organ which can be seen played in this video.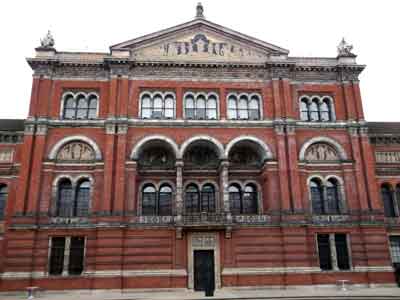 New Acquisitions Gallery - We made a quick stop at the new acquisitions gallery where we were shown items such as an original 1959 Barbie doll and cocktail set made in 2010 which was to illustrate the fact that the V and A museum continues to expand its collection.
Original V and A Museum Entrance and Garden - Our final stop on the tour was to the central garden area where you can see the original entrance to the V and A museum. At the top of the building you can see names of countries and items from the Great Exhibition which took place in 1851 and from which the museum originated.
This was a very enjoyable tour which was fun, interesting and varied and it makes a fascinating way to start your visit to this great museum!
Back to the top of this V and A Museum Page
Back to main Victoria and Albert Museum Page
Back To Love London Museums Home Page