A Childrens Museum For Everyone
The Museum Of Childhood 
This childrens Museum is certainly not just for the kids. I have been coming here since I was around 10 and I still find it a fun and interesting day out. 
The museum houses a huge collection of childrens toys, clothes and baby items from both the distant past and the not so distant past.
I can guarantee you will find something you owned as a child and it will bring many lovely memories flooding back, it does me every time.
Opening Hours and Admission
Admission to the Museum is FREE
Opening Hours:
10.00 - 17.45 Monday - Sunday
Closed 24, 25, 26 December and 1 January
Address: Museum of Childhood
Cambridge Heath Road, London E2 9PA, 
Tel: +44 (0)20 8983 5200
| | |
| --- | --- |
| A quick guide to this page | |
Guide To This Page
---
Childrens Museum Highlights
To call this just a museum of toys would be doing this place a great disservice. Yes there are lots of toys to see but it is also a fun place for children to visit and to interact and learn at the same time.
There is a great cafe to chill out in right in the centre of the museum, this means that while you rest your feet for awhile the kids can continue to explore where you can still see them. 
There are three main areas of the museum which I will briefly describe.
Moving Toys Gallery - As the name suggests you will find toys here that move in one way or another, either my electricity, wind up or pushing and pulling.
My two highlights from this section is a lifesized Robbie the Robot from the TV show. He not only looks amazing he can also be interacted with by turning cogs and keys to make his clockwork front and lights turn on. This robot was constantly a centre of attention for the kids all day long.
Also in this area there were many of the old fashioned kaleidoscopes and magic lanterns which kids today may never have seen before.
I grew up loving my kaleidoscopes and view finders and I wish I had kept them safe. But knowing me I probably wore them all out.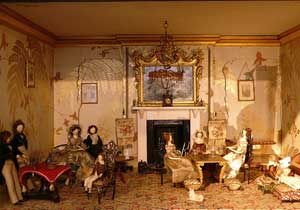 Creativity Gallery - If puppets and teddies re your thing then you will love this area of the museum. There are rag dolls and bears of every description.
This area is designed to illustrate how children often learn through creating their own toys and games by using items they find laying around. Such as pretending there's a castle in the house by just covering a table with a cloth and making a paper crown for yourself.
Childhood Gallery - This side of the childrens museum is completely taken up with toys which help children use their imagination through play and learn about everyday life.

There is a full sized kid's kitchen complete with pots and pans for visitors to play with. The surrounding displays are full of items such as make believe ovens and tools which I remember having as a child. To the rather more grand toys of yester year such as magnificent doll houses of all shapes and sizes. 
Daily Events
When I visited the museum was packed with children and parents participating in various events which take place in the childrens museum on a daily basis.
Activities include:
Storytelling,
Arts and crafts,
Tours and treasure hunts.
If you want to take part in of these activities I would suggest that you contact the museum first to make sure that the events are still going ahead and at what time.
Images of some of the exhibits
Back to top of this Childrens Museum Page
Home

>
Specialist Museums
> Childrens Museum
---
---