Discover the Design Museum
The Design Museum is situated right on the river Thames very close to the Tower Of London which makes it a great spot anyway to visit. It isn't a very large museum which is housed inside an old warehouse but which has been redesigned to look like a luxurious white 1930's art deco building. There are plans for the museum to move to much larger premises during 2015.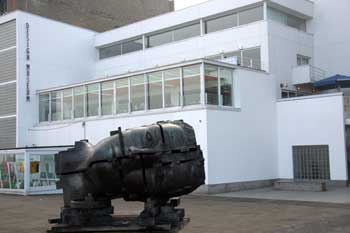 The museum supports and promotes designers and architects from all over the world who have led the field in contemporary design.
Many famous designers from all disciplines have had their work exhibited here such as Isambard Kingdom Brunel (engineer), Paul Smith (fashion designer) and Jonathan Barnbrook (graphic designer) to name just a few.
The museum does not have any permanent displays and so it is constantly changing and as such there is always something new to see.
Opening Times and Admission
Every day 10:00 - 5.45
The Design Museum is open on all bank holidays except 25th and 26th Dec.

Admission Costs:
Adults: £12.40
Children £6.20
Students: £9.30
Children under 12 years of age can enter the museum for free
Address:
28 Shad Thames, London SE1 2YD
Email: info@designmuseum.org
Examples of Exhibitions
As mentioned above the museum does not have any permanent displays and so there is a constant changing programme of exhibitions. These are very diverse Exhibitions and so there will always be something for everyone.
At the time of my visit (Nov 2011) there were four separate exhibitions on display, these were:
Terence Conran - To celebrate this famous mans 80th birthday an exhibition honouring his designs and ethos and how it has impacted on all of our daily livesin one way or another. 

The exhibition covered the many different ventures Terence Conran had throughout his eighty years, in particular:
His love of Mediterranean food and how he brought this cuisine to the masses via his many restaurants. 


His furniture, textiles and appliances for the home and the birth of his now famous high street chain of shops, Habitat.
This is design - The museum owns a very large collection of items from the 1900 to the present day. This exhibition puts together a small selection of them, chosen for their iconic design elements and their impact on everyday life.
Many of these items we take for granted and don't think twice about their influence on our modern society. Some of the items on display were:
Road signs
The Mini
The Vespa
Vacuum cleaners
Typewriters and early computer keyboards.
Designers in residence - This exhibition is part of an ongoing programme for four designers who have a residency with the museum. This particular exhibition is called "In pursuit of imperfection", the brief being for the designers to explore the idea of creating the perfect object.
The designer's responded with items of furniture, product and interaction.
Football art and design - This exhibition show cases PUMA's new football kits for the African National football teams. It shows how individual designers interpreted the brief of incorporating the identity and culture of Africa into the football kits. Both the kits and the plans and ideas behind the kits were on display.
My Review Of the Design Museum
I love graphic design and all things to do with good design and functionality and so I was looking forward to returning to the design museum once more. I hadn't been for some time and my memory of what the museum was like had dimmed somewhat, so it was a true day of discovery for me. 
The museum itself is a situated in a great part of London. right next to the Thames and Tower Bridge and surrounded by fashionable restaurants and boutique shops to suit all purses.
On the ground floor of the museum is situated their shop which you can enter without having to pay the entry fee for the museum if all you want to do is to pick something up for yourself or as a gift. The shop is full of fascinating and unusual items which I must admit I have not seen elsewhere. You can buy anything from household gadgets to books and many gift items.
The Design Museum itself is located over three floors and consists of two large gallery areas and a smaller one which looks over the river and has a small outside Balcony which is sometimes included in the exhibitions.
The galleries are easy to walk around and are I think, what i like to call "human sized". Meaning that they are big enough to hold a decent sized exhibition but are not to overwhelming and tiring. This allows you to really enjoy each individual item in a leisurely manner and I found that I learned a lot more than I sometimes do in other museums.
The museum is a very simple space and not overly cluttered with items, the plain white walls and simple layout allows for the design of the individual items to shine out.
Over all my visit took me about an hour and a half, this left me plenty of time to visit the shop and to grab a bite to eat in one of the nearby restaurants.
Even if design isn't really your thing you will still get a lot out of a visit to the design museum, it is aimed at all levels of interest and is always laid out in a very accessible fashion. During my visit there were families with children of all ages there, older couples and everyone else in between. A good day out and informative and inspirational too.
Back to the top of this Design Museum Page
Home

>
Specialist Museums
> Design Museum
---