Jewish Museum London
The Jewish Museum in London has been around since 1932 however for many years there were two sites where the collections were displayed. It has only been in recent years that the two collections have merged and have been housed in a brand new extension within its permanent building in Camden. 
The Jewish museum focuses on many aspects of Jewish life including:  Judaism, The Jewish community in East London, The diverse roots of Jewish Social History,  Jewish Refugees in Britain during and after the war, The Holocaust.
Many may not realise but a Jewish community has been in Britain on and off for hundreds of years and they have made a lasting impression and contribution on British society.

A visit to the museum brings these influences into focus and gives a close up insight into the individuals and their lives during the centuries. As well as giving the visitor a better understanding of Judaism itself, I know I found out so much during my visit.
Opening Hours and Admission
Raymond Burton House, 129-131 Albert Street,
London NW1 7NB
Tel: +44 (0)20 7284 7384
Email: admin@jewishmuseum.org.uk
Mon - Thurs, Sun 10am - 5pm,
Fri 10am - 2pm, Saturday closed
Open on Bank Holidays and closed for Jewish festivals.
Adults: 7.50 (conc. 6.50)
Child (5 - 16): 3.50, under 5's FREE

The Jewish Museum Exhibitions and Facilities
There are six gallery spaces:
The Welcome Gallery - This is a free area which is situated next to the shop. Large Video Screens play various interviews with Jewish people living and working in London today.
Judaism - a beautiful gallery displaying religious objects and telling the story of Judaism and explaining the various festivals and the day to day lives of Jewish people.
The British Story - A fascinating gallery telling the story of Jewish settlers in Britain from as early as 1066 and explores the daily lives of ordinary people and their ability to adapt and work hard to make a home for themselves in Britain.
Holocaust Gallery - A small gallery which tells the story of the horrors of the Holocaust and the suffering of the Jewish people as seen and experience by a survivor of Auschwitz.
Living Community - This is a small area which contains a interactive digital display table. You are able to explore various aspects of Jewish life by moving digital images around the screen.
Changing Exhibitions Space - The top floor gallery houses changing exhibitions. Check the Jewish Museum What's on page to find out what is currently on.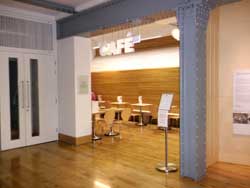 There is a cafe on the ground floor which serves simple meals and snacks and a shop which I thought was very well stocked with some beautiful items as well as many fun and educational items.
There is a lift available to connect all floors and toilet and baby changing facilities are on several floors. This is a very well designed and thought out museum and access is very easy to all galleries.
Our Review of the Jewish Museum
Visiting the Jewish Museum London turned out to be a fascinating experience and made us realise just how little we knew about the lifestyle, culture and influence of this world-wide religion and culture.
The museum is housed in a beautifully converted early Victorian terraced house and is a short walk from Camden tube station, so it's easy to combine with a day out at the famous markets nearby!
We were warmly welcomed as we entered the museum and all the staff seemed friendly and approachable, from the staff on the security and ticket desks to the volunteer guides who were happy to tell us more about any exhibit we were interested in.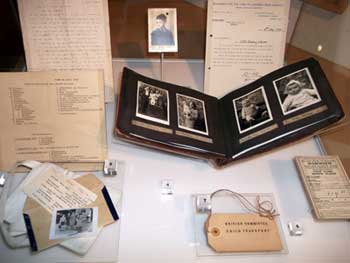 The Jewish museum has benefitted from a major development and expansion that was completed in 2010 giving it a bright, spacious and airy feel. The exhibits are all clearly displayed and the themed galleries make sense as you make your way around them (unlike some museums which can leave you feeling a bit bewildered!).
After the Welcome Gallery in the entrance hall (which leads to a fascinating ancient ritual bath called a 'Mikveh', discovered and excavated in the City of London in 2001) the museum in divided into three main sections and then has a gallery for changing exhibitions on the top floor.
We found all sections equally absorbing. The gallery named 'Judaism: A Living Faith' houses some breathtakingly beautiful artefacts and objects that illustrate the traditions, rituals and practices of Judaism. They are displayed in a stunning circular gallery with small rooms all around the walls which house displays illustrating daily life, ceremonial practices and other parts of the faith. Audiovisual screens accompany the objects and show people telling their stories and explaining the meaning of various aspects of Jewish life such as Passover, Hanukah, Synagogues and the Torah.
The next gallery is 'A British Story' depicting the experience of Jewish people in Britain from right back to 1066 and up to the present day. These exhibits cover many themes such as the various trades that Jewish people coming to this country have traditionally worked in, to the different periods of persecution that Jewish people have suffered, and experiences during the war years including the 10,000 children who came to Britain on the Kindertransport.
The gallery is particularly good at giving an idea of the incredible variety of countries and regions that Jewish people have emigrated from to come to this country and of how well Jewish people have integrated and contributed to British society.
We felt that the Holocaust gallery was particularly effective, mainly because of the refreshingly different approach it had taken by focusing on the individual experience of one person to tell the story, that of Leon Greenman. Leon was born in the East End of London, and one of the few survivors of Auschwitz concentration camp. He later dedicated his life to campaigning against all types of prejudice and racism and was awarded the OBE for his work. The gallery includes a video of Leon telling his story as well as poignant surviving artefacts belonging to his family (who sadly were killed in the camps).
We finished off our visit by looking through the temporary exhibition about the massive contribution made by Jewish people to the entertainment industries and then went to have some tea and bagels in the cafe. There is also a lovely little shop that sells some wonderful gifts and books.
We should mention that the gift shop and cafe (and part of the Welcome Gallery) are free to enter, so if you don't have time to go round the Jewish Museum, you can still pop in and enjoy these any time you might be in the area!
---
Events
Amy Winehouse - A Family Portrait
Back to the top of Jewish Museum Page
Home

>
Specialist Museums
> Jewish Museum
---