Museum of Garden History London
The museum of garden history is housed within an ancient church which was going to be demolished in 1977 but which was saved when it was discovered that the church of St Mary's contained the burial place for Britain's first great plant hunters and gardeners John Tradescant the elder (1570 - 1638) and Younger ( 1608 - 1662).
The museum is situated in a beautiful part of London, overlooking the Houses of Parliament and the Thames and next door to Lambeth palace, the city residence of the Archbishop of Canterbury. It is also only five minutes' walk from the Florence Nightingale Museum and the London Eye.
A visit to this enchanting museum is not just for garden lovers but also for those who enjoy fantastic ancient architecture and London's Local history. 
The Garden Museum has closed for a £7.5 million re-development
 and will re-open in early 2017.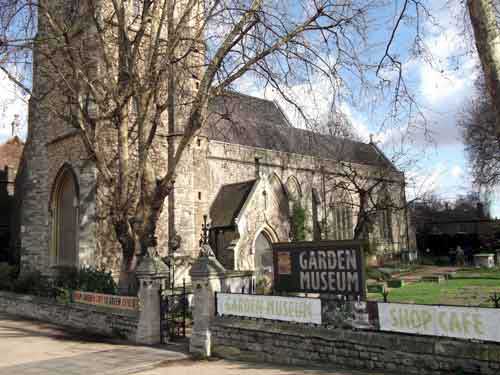 Opening Times and Admission
Sun - Fri - 10.30am-5.00pm 
Sat  10.30am – 4.00pm
*The Museum is closed on the first Monday of every month
Admission, £7.50 Adults, £6.50 Senior Citizens, £3 for students
Address. Lambeth Palace Rd, London SE1 7LB
Tel: 020 7401 8865
Email: info@gardenmuseum.org.uk
www.gardenmuseum.org.uk
Guide To This Page
---
The Museum Collection and Exhibitions
The museum of garden history is not a large museum but it does have the added bonus of being housed within a beautiful old church which in itself is well worth the visit.
What you will see during your visit:

Lambeth Local History - There is a continuous running film situated at the bottom of the bell tower and at the top of the marble stairs to the crypt. This runs through the fascinating and colourful local history of this part of London, Lambeth.
Temporary Exhibition space - The inside of the church was remodelled by architects to provide both a useful space for exhibitions but also to keep the church space as original as possible. this has involved creating very simple structures which enables up to three separate exhibitions a year which celebrates the making of Britain's gardens. This also includes talks and interviews celebrating the past and present day plant hunters and garden designers.
Garden - The garden for the museum was created around the existing grave stones of the Tradescant's and also the tomb of Admiral Blyth, the famous explorer. Who is probably most famous for the Mutiny on the bounty story but who should be noted for his voyages and work with the people and the develop ment of thier crops in the Caribbean. In fact his tomb is topped off with a breadfruit sculpture which he was responsible for transporting from Tahiti to the West Indies and which is today a popular food crop in that area.
The garden has been laid out using a seventeen century design Knot garden which is planted with many plants introduced by the Tradescant's. It is very beautiful and relaxing space and which can be enjoyed even more during the summer months by enjoying cup of tea in the cafe courtyard area.
Permanent Collection - The museum of garden history has a large collection of around 10,000 objects, which span 400 years of gardening in Britain.
These items include tools, seed packets, paintings, books and the whimsical. Unfortunately at the moment only a small percentage of these can be displayed in the space available at the moment, but future plans will enable a much larger exhibition space for these historical items.
The collections look at all aspects of gardening from the simple back yard to the grand scale gardens of a country house. The collection is designed to represent the history, culture and design of gardens in Britain from the past to the present day.

Shop and cafe - There is a small shop selling all sorts of garden items from books to forks and spades as well as smaller gift items. The cafe is a wonderful rustic space which sells a range of home made cakes and light lunches and really is worth spending some time in. You can either sit within the church itself and enjoy a cup of tea or in the summer enjoy the garden area in their courtyard.
Our Review of the Museum of Garden History
The museum of garden history really is in a lovely part of London. On the day i visited it was a cold but bright clear day and the church in which it is situated looked fantastic in the late winter light.
I was greeted by a very friendly staff member who talked me through all the various areas of the museum to make sure that i did not miss anything. My first stop was to warm up with a pot of tea in the cafe, which is situated in one of the churches naves.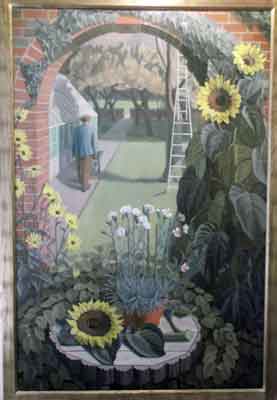 They were just getting ready for lunch and were laying out all their freshly prepared home cooked food. I must admit I was very tempted to stay for lunch as the food looked wonderful.
The museum of garden history is rather small at the moment but I know they do have plans in the future to expand their exhibition space. At the moment the ground floor houses a temporary exhibition space which when I visited was a collection of photographs by Jane Sebire showing Green spaces. There is also a film showing which is about the local area and history of Lambeth.
A rather striking new stair case has been created to lead you up to the main permanent exhibition space. I must admit that a lot of my attention was grabbed by the church features itself. There are stunning stain glassed windows and a wonderful wooden vaulted roof as well memorials and stone figures covering the walls.
Once you are up on the second floor you are guide around cabinet displays containing various garden implements and general garden paraphernalia such as various spades, forks and knives which have been used in gardening throughout the last 400 years.
There are also some wonderful paintings showing various different garden layouts and the changes in garden styles and tastes.
I left the garden area for last as it was a cold day and didn't relish being outside for very long. However the garden is so beautiful and I can imagine that when it is in full bloom and the weather is warmer that you would want to spend quite some time there. It is a small garden with a laid out 17th century Knot garden in the centre and contains two large tomb stones. 

Both of these tomb stones are well worth a thorough look as they are not only commemorating very famous people (Admiral Blyth and both John Tradescant's) but are in themselves very elaborate in decoration. The Tradescant's tomb in particular is very unusually decorated with carved alligators and various creatures on one side and what looks like a fallen roman villa on the other.
I really enjoyed my visit to the museum of garden history and although not being a gardener myself still found it to be both informative and entertaining.
Back to the top of this Museum of Garden History Page
Home

>
Specialist Museums
> Museum Of Garden History
---