The Future Is Here Exhibition
24 July – 29 October
The future is here, where? Well all around us, every day, every where, in everything that we eat use and see. Manufacturing technique and new design methods are developing at a pace, in fact things are changing so quickly many may not even notice.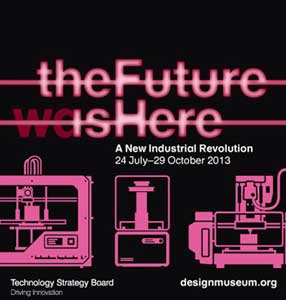 This new exhibition at the design museum looks at how new processes in design and manufacturing will impact on everyone's day to day life. From what is 3D printing and how will it be used to additive manufacturing (I don't know what that is either).
So if like me you are curious about what changes are happening in the design world, or perhaps you know but have some questions to ask, then this exhibition and the accompanying talks is a definite must for you .
On display will be some of the manufacturing processes and techniques currently being developed to change the world around us.
Talks
There are some talks which go along with the "The Future Is Here" Exhibition. Each talk lasts an hour and covers various design topics around 3D printing processes. . Please book in advance with the Design Museum.
Everything you ever needed to know about...
3D printing and CNC machines -  14 September, 2.30pm
3D printing software -  28 September, 2.30pm
Appropriate technology -  12 October, 2.30pm
3D printing and mass customisation -  19 October, 2.30pm
Booking:
 £11.85 Adult
 £7.50 Student
Tours of the exhibition
There is also two special tours to explore this new exhibition. There is no booking required but places are limited, so a first come first served system will be in place.
GALLERY TOUR -  Sunday 20 October, 1.30pm
A 30 minute tour led by a member of the Design Museum team.
SUNDAY DRAWING TOUR -Sunday 18 August, 1.30pm
A one hour gallery based drawing session combining exhibition tour and workshop.
Back to the top of this The Future Is here page
Back to the Design Museum Page
Back To London Museums Home Page