London Guide
To East, West, South and North London
This London Guide page will cover all those areas which surround central London and which sometimes can get left out of visitor itineraries.
I have lived in East London all my life and know just how many great things there are to do here. This is true for all of the outer London boroughs, this page will highlight some of the main venues and places to include on your trip.
The page is broken down into the four main areas:
East London Guide
Although traditionally known for being the poorer side of London, this area has a rich social history and in recent years has been developed and now contains some of the best visitor attractions, including the Olympic stadium and park.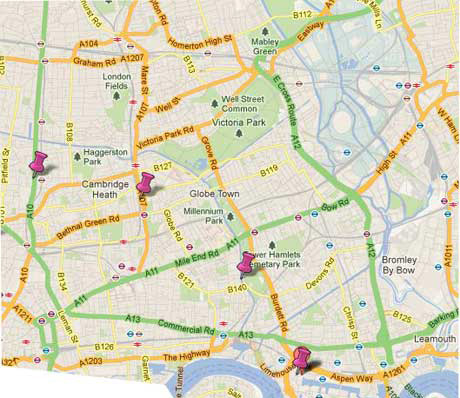 Main Museums In The Area
Ragged School
Other Places of Interest & Entertainment In East London 
Olympic Stadium and Park - Stratford
Open to the public from 2013
ExCeL London

One Western Gateway
Royal Victoria Dock


Exhibition, Events, Concerts and more.
Hackney Empire Theatre
291 Mare Street, Hackney
Built in 1901 this theatre is rich in history as well as putting on some great theatre shows.
Jack The Ripper Walking Tour
Go on an walking tour with the original London walking company to explore the haunts of one of east London's most notorious murderers
No need to book just turn up. The tours run every night (not Dec. 24 or 25) at 7.30 p.m.. Meet just outside the exit of Tower Hill Tube
Cost £9. ( £7 for Over 65) under 15 accompanied by parent FREE
Shopping In East London Guide
East London consists of many different boroughs, each with their own shopping high street. the quality of the shops in these high streets can vary dramatically.
Here are three very different shopping experiences in East London:
If you are looking for quirky and quaint shops with a traditional market on Saturdays, then visit Broadway market, London E8 which runs from London Fields park to the Regent's Canal.
If you are looking for something a little more grungy and ethnic then try Brick Lane. Full of good Indian restaurants, retro fashion and original handmade items.
For the top branded shopping experience with lots of choice then the newly opened Westfield Shopping center in Stratford is the place to go.
South London Guide
South London is the large area south of the south bank and River Thames. It stretches quite away down away and from Woolwich in the east to Merton in the west.
Main Museums In The Area
National Maritime Museum
Wimbledon Lawn tennis Museum
Royal Artillery Museum
Sewing Machine Museum
Fan Museum
Horniman Museum
Cuming Museum
Brunel Museum
Other Places of Interest & Entertainment In South London 
Royal Observatory
Greenwich Park, Blackheath Ave
Adult £10
Battersea Arts Centre
Lavender Hill SW11
10am 5pm Mon. -Fri. Free
Crystal Palace Park

Ledrington Road, Bromley

Has a great Dinosaur park with giant models which were built in 1854 and are now known to be wildly inaccurate.
Dulwich Picture Gallery
Gallery Road, Dulwich, SE21 7AD
Adults £5.00, over 65's £4.00
Tues - Fri 10am - 5pm, Sat - Sun 11am - 5pm
Shopping In South London Guide
Brixton Market, Market Row SW9
An eclectic mix of cheap wigs and exotic foods. A vibrant market with a very unique flavor which is unique to Brixton.
Greenwich Market - Weekends mainly Sunday
A fabulous mix of antique and craft stalls all mixed up with shops selling items with a nautical theme.
West London Guide
West London is known as the more affluent side of London and was the first area to be developed after the city.
Main Museums In The Area
Museums Of Brands
Leighton House
Kew Bridge Museum
Hogarths House
Musical Museum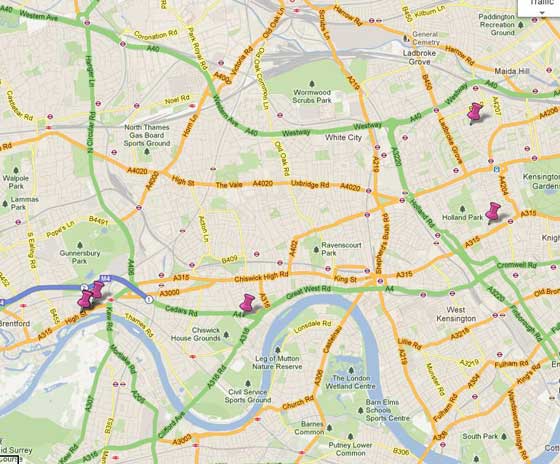 Other Places of Interest & Entertainment In West London 
Fulham Palace
Bishops Avenue, SW6
Open 1pm - 4pm Mon - Wed, Sat, Sun, Free
Built in the Tudor times with Georgian and Victorian additions.
Fullers Brewery

Chiswick Lane South, W4

London's Last family run brewery.

Tours Only (must be booked) Mon - Fri

Adult £10 including tastings
Syon House
Syon Park, Brentford, TW8
House Open Mar - Oct 11am - 5pm Wed, Thur, Sun
Gardens open all year
House and Garden £10.50, Garden only £5.50
Shopping In West London Guide
Portobello Road Market - Notting Hill
Although known as London's longest Antique market, Portabello road is also a very trendy and with it kind of place. Coffee bars, music venues, unique clothes shops and right at the end of the market a great flea market.
I love this place, go in the week for a relaxed walk alone the road. Go on the weekend especially a Saturday, for a a crammed packed buzz of a shopping experience.
Westfield London
Large shopping mall with all the top brand stores.
Ariel Way, White City,W12 7GF
North London Guide
What can I say about North London. It is so many things, from trendy and upmarket I.e. Hampstead and Highgate to grungy and edgy like Camden and Islington and all there is in between.
Main Museums In The Area
Airforce Museum
Keats House
Jewish Museum
Canal Museum
Academy of Music Museum
Sherlock Holmes Museum
Arsenal Museum
Marylebone Cricket Club Museum
Other Places of Interest & Entertainment In North London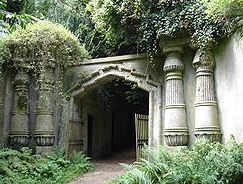 Highgate Cemetery - Closest Tube stations is Archway
This is a very well kept and fascinating place to visit. some very famous people are buried here such as : George Eliot, Douglas Adams and of course Karl Marx.
The east side of the cemetery is free to wander but the more Gothic and mysterious west side with its catacombs is only accessible via pre booked tours.
Primrose Hill - Closest tube is Chalk Farm
This is a lovely little area, popular with celebrities. The little parade of shops are all unique and individual, with boutique fashion stores and artisan food stores, fantastic little restaurants and cosy pubs.
With fantastic views over London it is also a great place to come to get away from it all and enjoy a picnic high up overlooking our great metropolis.
Kenwood House - closest Tube is Hampstead.
Northern end of Hampstead Heath
A lovely neoclassical mansion which is situated in the grounds of Hampstead Heath.
Currently closed for major works the house will re-open in the Autumn 2013. However the grounds and it's fantastic cafe will remain open and is well worth a visit by themselves.
London Zoo - Closest tube regents Park or Camden
One of the oldest Zoos in the world (est. 1828). Over the years the zoo has been modernised to provide the best possible habitats for the animals and a great day out for all the family. I've been going there since I was a very small child, love it!
Open daily except Christmas 10am to 5:30 (6pm summer)
Prices range from:
£23 for adults in peak season to £20 in Winter
£17 for children in peak season to £15.50 in winter
Get in for FREE with a London Pass.
Shopping In North London Guide
Impossible to name all the shopping areas but two of my favorite and the more unusual and unique are:
Camden Markets - Camden
This is one of London's most popular tourist destinations. It is really a collections of small markets near to Camden Lock.
The markets all vary in what they have to offer. You will find top of the range unique designer fashion to grungy street clothes. Tourist items to hand made crafts, jewelry and a myriad of unusual and beautiful decorative items.
Best time to go is the weekends especially Sunday but be prepared for the crowds.
Camden Passage - Islington
Although the name is similar this market is not in Camden but is in the neighboring borough of Islington. Islington is a well heeled area with the usual range of hi street shops. However Camden Passage is is a set of four arcades selling antiques along a rather pleasant narrow street away from the noise of the traffic.
Open most days but weekends are probably the best time to visit.
Discount Passes
The London Pass

Free entry to over 55 top London attractions and tours

Skip the lines

Free 120+ page Guidebook

Added Travelcard option

Additional special offers

London Flexible Attraction Packages

Choose the saving Bundle for you and then decide which days you want to visit.
Back to the top of this London Guide Page
Home

>
Sightseeing Maps
> London Guide
---